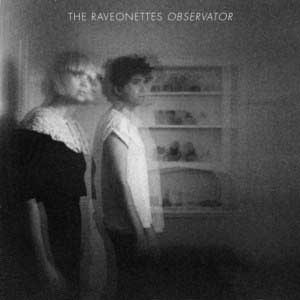 CHRIS MOYLES has never heard of the Raveonettes. Or should I say had never heard of them. A number of years ago he was interviewing a nondescript indie band, lets say The Kaizer Chiefs, who had just been in New York. He asked them if they had seen anyone famous, as this was the quality musical questioning bands were subject to on his show, and they said The Raveonettes. To which Chris Moyles replied "Who are they?" Now it is possible that Chris Moyles, being a DJ and all, rushed home afterwards to listen to this band he admitted on radio he had never heard of. But its far more likely he went home and played X-Box. So I feel its important to note this a couple of months after he retired from the Radio 1 Breakfast Show to plaudits and thanks: Chris Moyles had never heard of the Raveonettes.
Of course you will have heard of them, because you don"t live in the confined bubble of the Radio 1 playlist. You will know I"m sure that they play sultry pop with vocal harmonies to melt a heart of stone and guitar parts so filthy they should wash their mouths out with soap and water. However you may not be aware that they recently released their sixth album, Observator, to critical acclaim, and very recently embarked on a four month European tour which, next week, rolls into the UK. Just before setting off, guitarist and vocalist Sune Rose Wagner caught up with John Gibbons to discuss the album and tour.
The Anfield Wrap: You play eight shows in the UK this winter finishing up at the newly re-opened Eric"s in Liverpool. Are you aware of the history of the venue?
Sune Rose Wagner: I"m not aware of it actually but I"m more than willing to learn. I love visiting the towns and cities of the UK and it's been far too long since we actually did a proper tour. I'm genuinely excited about getting back in a van and exploring and meeting people.
TAW: Do you have any particular favourite places or venues to play in the UK?
SRW: I like most places really. We haven"t been to the UK for quite sometime so I"m extremely thrilled Jackpot Jester 50,000 er som andre norske blackjack bonus selvsagt enkelt utstyrt. about this tour!
TAW: To me, of the albums you have released previously, this album sounds closest to "Pretty in Black". Would you agree?
SRW: Perhaps yes, it"s quite varied and has a big powerful sound. It was recorded at Sunset Sound in LA where artists like The Doors and The Stones did some amazing albums so it"s quite a good sound.
TAW: Nowadays it seems to take a band months to record an album, but I heard you recorded Observator in less than three weeks. What are the advantages to recording in this way? Is it a better way of capturing the energy of the songs?
SRW: Sometimes yes, it worked for this album. There a certain kind of spontaneity that I find incredibly appealing, it"s an interesting way of working…
TAW: Now you have been recording for ten years you are almost elder statesmen of the music scene! Does that feel strange?
SRW: I think it"s really flattering to be in a position to inspire new bands. But yes I do question the longevity of a band, but as long we"re capable of churning out important music we"ll go on.
TAW: Finally I know you are based mainly in America  now, but do you still keep up with the music scene in Denmark? I was wondering if there were any new bands we haven"t heard of over here that maybe we should have?
SRW: I haven"t lived in Denmark for over 10 years and I"m not very good at checking out what"s happening so couldn"t really say..
The Raveonettes UK leg of their European Tour begins in Leeds on 28th November and ends at Eric"s in Liverpool on 5th December. For full tour dates visit: www.theraveonettes.com/tour/.