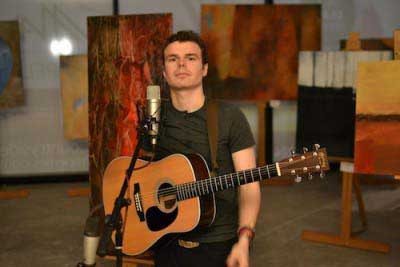 Stephen Langstaff's highly emotive songs are attracting more and more attention across the country. Ahead of his homecoming show at The Epstein Theatre this Friday, he met up with John Gibbons to chat about his music, connecting with an audience, and how he could have been a footballer instead.
The Anfield Wrap: So we've seen you before actually at Kendal Calling and really enjoyed it. I think the live set up you have works really well.
Steven Langstaff: Yeah thanks, it was a good day that. I enjoy the set up I've got at the moment, with bass, drums, acoustic guitar and cello, because it's not overwhelming in terms of sound. Because a lot of what I do centres really around what the song is saying and my vocal and how I deliver it. So the balance works well I think, and the drummer uses hot rods instead of sticks, so it's not too much. But then when certain songs like 'Smile' require it you can get some epic sounds.
TAW: Have you found that working with other musicians changed the sound or any of the songs?
SL: I really like the collaborative feel of what we are doing together; it's like a meeting of minds. I'm not the type to just dictate to anyone. Because you might have written a song, but it's independent of you as well, so you don't really own them. Once they exist they can be moulded into various forms by different people. So it's important when you bring in other musicians that you don't get too possessive about a song. Because other people can breathe new life into your songs, either by covering them or by working with you on them.
TAW: Speaking of covers, when I saw you at Kendal you played 'Smells like Teen Spirit' which is probably a song people wouldn't expect you to do. Is that part of the reason why you chose it?
SL: I just love the song. I'm a massive Nirvana fan, it was one of the first albums I was given. But one of my big musical heroes is Tori Amos and she has done a cover of it, which is very stripped down piano. So I started playing around with it and then brought it to the band, and once the other parts went in it worked really well. But it's just a great song, that's why I did it. It's an absolute monument of a song and I'm happy I could put my twist on it.
TAW: So you've got an album out 'Colours' which is out now, tell us about that.
SL: Well it's like a pre-album to the album I'll make next year. Because I have been doing a lot of travelling and gigs this year, we wanted to put together an album that would reflect what we've done. So it's called 'Colours' because it's meant to be a flavour of where I'm at. It was recorded in lots of different places and it has a breezy-ness about it, which I like because it kind of reflects the year I've had, because I've been breezing from one town to another. But Colours has been brilliant. For something that was put together just to reflect what I'm doing whilst I am travelling and building up fanbase, I've had some fantastic responses to it. A lot of people have taken it to heart.
TAW: So are you writing for next year's album now?
SL: Yeah it's well underway. I can feel what the album is going to be like; I can kind of see it. It's just a case of letting it all come out.
TAW: So you have a lot of gigs coming up, including a headline show at The Epstein Theatre. Have you been to the newly re-opened theatre yet?
SL: I've played there actually, we did it for Soundcity. We loved it so we thought we'd book it for our own show. It's a great space, and I used to work there actually, before it shut when I was a student, so its special place in that way as well. I'm really looking forward to it. It's seated, so that will be interesting. I think what I do works in various places, so it will be nice to do a theatre show, because I've played the O2 Acadamy a lot, I've played everywhere I think!, but I like the idea of going into a theatre, where you can strip it right down. I also like that it's a homecoming show at the end of the year to kind of celebrate the year I've had.
TAW: Now your music career is taking off, but I am told that you were quite a handy footballer in your youth
SL: I was yeah! I was at Liverpool until I was about 15. When I left Liverpool, Blackpool offered me a contract but I didn't want to do it.
TAW: Why was that?
SL: Because I was in love with music. It was as simple as that. I wanted to do music more than football and I couldn't do both properly. But yeah I was alright!
TAW: What position did you play?
SL: I was a striker, I was a nippy forward
TAW: It sounds like we could do with you now!
SL: I know! What could have been? My dad was good as well, so I think I inherited it from him. My dad played non-league and in the Welsh leagues, so he was good. But I always say that when I was 8 I was handed a pair of football boots, but if I had been handed a guitar I would have done that. I found music, whereas football was kind of given to me. But it was great fun growing up, it was a good time.
TAW: But you must still have some sort of connections to the club. Someone was telling me that Mark Wright sometimes introduces you onstage?
SL: Yeah, I'm friends with his wife, from before they met and they have both been really supportive. So there was a gig I did last year at Soundcity at View Two, and my manager had managed to get (legendary music head) Seymour Stein to come from New York, so because it was quite special we decided to get someone to do an introduction. Mark is such a character; he's a really nice man, so he did it. He's actually a really big music fan, he loves his ACDC!
TAW: So after this gig at the Epstein then its all systems go towards the album next year?
SL: Yeah, apart from going over to Dubai to do a show there. It's an exciting time, there is definitely a feeling of momentum. But the deciding factor is always the reactions of the people who listen, whether it be gigs or putting things online, and I have been lucky in that I get some really strong reactions from people. Like last night I got a message from someone on Twitter about this song I've got 'At Last', which is only up on YouTube as a live acoustic version, but he was saying how much it meant to him and his partner, and how it was a factor on them getting together when they were struggling to communicate with each other. It's just little things like that when you hear and you think 'that is the big function of music' and I love being able to do it.
For more on Stephen go to http://stephenlangstaff.co.uk/