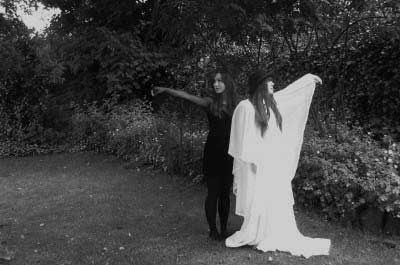 IN the rich tapestry of Liverpool's music history there hasn't been much space for females. Sure we've had a few singers like Cilla, Sonia, Lita Roza and, er, Atomic Kitten, but there was only really Jayne Casey in the 20th Century who managed to break into the male dominated turf of 'the band'. Bands like The Little Flames and the Zutons have made tentative steps to correct that, but recently we have a much greater surge in properly girl powered (I said powered!) Liverpool groups, and not before time. Ahead of their gig with The Charlatans' Tim Burgess, John Gibbons met up with Bird, who are one of the most hotly tipped to break through, to discuss their past, present and future.
John Gibbons: So if we can firstly introduce anyone who might not know Bird, how long have you guys been together?
Adele Emmas (Singer): As this set up as we are now, we've been together about five-six months, and its going really well. We are on tour at the moment, doing quite a few dates with (Manchester girl band) PINS and Tamryn and then we come back to do the Liverpool show with Tim Burgess in Magnet. We've also just released our EP 'Shadows' which is getting lots of radio play on 6 Music and Radio 2, so there is loads going on for us at the moment.
JG: And you are just about to record a new EP as well?
AE: Yeah we are doing it will Bill Ryder Jones from The Coral. We've been recording that in the Scandinavian Church in Liverpool and that should come out a week or two before Christmas.
JG: Oh how is the sound in there? I am doing a gig in there next week!
AE: One of the very first gigs we did was in the Scandinavian Church and the acoustics and the natural reverb you get, and just the overall sound you get is really good. It's also nice to say you've recorded it somewhere like that, because it's right up our street. We're actually playing there again in November
JG: How was it working with Bill?
AE: Great yeah, he got in touch because he was a fan of the music. He's obviously had a great career, and is still having a great career and I think he just wants to help out bands and give them a bit of a leg up which is lovely. And he's a lovely bloke
Sian Williams (guitar): He is really easy to work with, and he gets it, which is good.
AE: And we are both a big fan of his music, especially his more classical orchestral music, so we were made up when he got in touch. We are really excited about this next EP.
SW: It already sounds different to the last one, I think because of the production and because we've grown a lot in such a small space of time.
JG: So any plans for a full album?
AE: We are planning on doing an album next year. But we want to get the momentum up with these EPs before we release an album and get out of Liverpool a lot. We don't want to rush ourselves really, we've got the album in our head, but this year is all about getting the building blocks down and then next year we can just smash it with an album!
JG: You've mentioned that you have been playing with PINS, who are quite different from you guys, but I was wondering if you ever just get compared with other bands just because there are girls in them.
AE: All the time, it's my pet hate.
SW: And all girl bands get compared to Warpaint, which is fine for us because they are one of our favourite bands. But most of the time when you read a girl band get compared with another girl band they sound nothing alike. It's just 'oooh it's women, let's put them all together in a little box'
AE: But I think the shows with PINS work so well because we are different.
SW: So it's not like watching the same band twice.
JG: In terms of your influences, I can see the Warpaint thing actually, despite what we've just said! I was also interested to see Leonard Cohen listed as an influence, as a huge fan myself.
AE: I try not to let people know my influences, but with Leonard Cohen I can't really help it. Lyrically he is the person I aspire to. It's not like I try and mimic him in any way, but he's the person that has made me a perfectionist with lyrics and has made me aspire to have really beautiful words.
JG: Because he can spend three years just trying to perfect the words to one song:
AE: Which I can kind of understand, well maybe not three years! I can spend two or three months on one song though. The song Monsters on recent EP took about three months to find the right lyrics, and if it doesn't feel right I won't play it to anyone.
JG: So I guess you hope that one day your lyrics will have the same connection with people that Leonard's has had with you:
AE: Yeah definitely, the songs we write are quite emotive and I'd like people to be able to listen to them and connect with them and think "that's what I was feeling" or "that explains what was going on in me".
Bird play with Tim Burgess @ The Magnet in Liverpool on Monday 29th October and lots and lots of other places too. To further connect with Bird go to:
Soundcloud: http://soundcloud.com/BIRDOFFICIAL
Facebook: https://www.facebook.com/birdmusicofficial
Twitter: http://twitter.com/BIRD_OFFICIAL