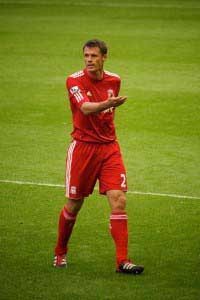 PART one in this was about Steven Gerrard's potential usefulness to Liverpool as a 23rd man in the squad. But Liverpool's actual number 23 is potentially at a crossroads. Jamie Carragher's spent the summer demonstrating what we thought – he's a sharp observer of football who wants to engage with the game. His articles for The Daily Telegraph have been excellent and he intriguingly broke ranks as much as any pundit against the tiresome "Hodgson Consensus".
 It's a safe option for all. Rodgers will need two cover centre halves and Carragher gets to develop himself as a coach. Simultaneously though it was clear last season that Carragher can still play, certainly in a defence sitting deep.
Carragher's always been a better footballer than he's given credit for and perhaps you can include himself in that. With options, coaching and good football happening around him he's been able to move the ball on the deck and he obviously reads the game very well indeed. There's been the notion he's been a tough player to play with over these last three years for Skrtel and Coates but he has enormous experience. Him continuing at Anfield would probably be Rodgers' preferred outcome.
But he shouldn't be a starter at Liverpool and should be behind Coates in the pecking order if the Uruguayan is going to make it at Anfield. This is the crossroads. He should still be a starter somewhere. For his game now and for his future in the game.
While Carragher can still command a top-flight starting berth he should look for one. And if he has genuine pretensions towards top-flight management then he should look abroad.
The pre-eminent managers have experience, playing or managing, across a number of countries and actively observed in a number of countries – Mourinho, Mancini, Benitez.
It"s no coincidence that the former United player who has looked the best manager, even if he isn"t that good, is Hughes. Of the emerging crop, Paul Lambert had a spell at Dortmund, Martinez is obviously versed in two different football cultures. Our own Brendan Rodgers hasn't managed abroad but a great deal has been made of his time spent studying there.
The best example is Guardiola who had a spell in Brescia after being Barcelona"s local hero for years. This would be priceless to Carragher – see a different footballing culture, experience what it is to be a foreign player abroad and come back to the UK to then put everything he has learnt across 15 years into practice. Carragher is still good enough for a Brescia and he has the opportunity in front of him to follow that example.
We're well aware that Carragher has a young family – we saw his son dance up the Wembley steps in February – and that relocating them is always going to be a tough decision. But Carragher has shown he is most definitely a driven professional. If he intends to be as driven a manager as a footballer then having the option of a move like this should be openly welcomed.
It's a chance to develop as Guardiola did, as Hughes and Lambert did, a chance to get out of an undeniable comfort zone in the city of Liverpool and its football club. It's a chance to build on what he's discussed all summer – the amount there is to learn outside these shores. And I'm sure positions at Melwood will remain open to him if he went and returned, with greater experience, extra prepared for the next challenges.
Jamie Carragher hasn't gone. All players go, they lose what they could offer. Carragher hasn't yet. However, despite the pull of home, despite Rodgers' overtures, despite what could be in Liverpool's best short term interests, he should seriously consider going.