IT seems that one challenge Brendan Rodgers has as Liverpool FC manager is going to be reducing or perhaps reconfiguring the wage bill while sustaining a push for a top four finish.
Therefore it may seem counterintuitive to argue that one of the squad's key players, highest earner, captain and talisman should be made the 23rd man when it comes to adapting the squad to the challenge ahead. But I'm going to do that. Liverpool's squad should have 22 first team members. And Steven Gerrard.
Indeed, I've been quietly arguing this for 12 months. But the arrival of Rodgers, his possession-orientated, controlling football brings the argument further into focus. If Liverpool are to have greater systemic control – as discussed in the article linked from Roy Henderson, as well as this by Andy Gargett  – and many similar pieces about Rodgers' time at Swansea all suggest, then the option is there to have greater choice over which games Gerrard plays and where he plays them.
Steven Gerrard has been, and is, a great player. With guidance and good players around him there isn't an outfield job he couldn't do well. He has almost everything a footballer needs and demonstrated that further while playing for England this summer.
However he's also been susceptible to injury over the past four seasons and he's aging. Managing his future is critical to Liverpool's potential success; relying upon him could well be detrimental to that same success.
Rodgers' system could mean Gerrard is less missed. There is the notion that certain players play better in Gerrard's absence. I'd tend towards thinking that is their problem (and the manager's) rather than Gerrard's.
The intended control of possession, combined with Gerrard's immense ability, could well mean that Gerrard could step into any position on the park either to target a weakness in the opposition or to offer an alternative to Liverpool.
On The Anfield Wrap podcast, Rob Gutmann has said repeatedly that Rodgers may struggle to solve a problem all top sides come up against: an opposition hellbent on sitting on the edge of their own area for long stretches, especially at Anfield. If, say, Glen Johnson was absent from a home game then Gerrard could be a better option from right back than Martin Kelly.
Spain have solved this problem of sides sitting deep against them by accepting it, but overloading with talent and penetration from all areas of the pitch – what Gianluca Vialli called two defenders and eight midfielders. Barcelona have done likewise, culminating in their pursuit of Jordi Alba this summer. Mascherano and Pique are both able to step into midfield, further extending their ability to play from all angles.
The one place where Gerrard's ability to impact a game could be least useful is the role Leon Brittain played for Swansea, the one Lucas will most likely fill in Rodgers' Liverpool.
Linking defence and midfield is what Gerrard often falls back into when he believes Liverpool aren't playing well, but it is a waste. A waste of his penetrative passing and running, his finishing, his delivery. It is a waste of what remains sheer heart-thumping incision and if the feeling persists that Gerrard cannot manage this every four days any more then it is more of a reason to manage him so he can do it when it really counts.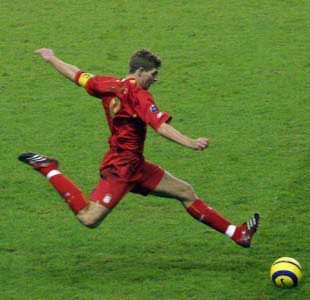 Gerrard is a player who needs facilitating, not a facilitator like Brittain and Lucas Leiva, though he can do it.
Gerrard would actually be of greater use against poorer sides at Anfield striding out of central defence with the ball, shocking a rigid opposition and getting 30 yards short of their goal with the ball at his feet.
That makes players make decisions and when players have to make decisions they make mistakes. Gerrard as Beckenbauer doesn't take much imagination. Gerrard as Fabregas in Spain's system doesn't take much imagination. That's the measure of the player. Gerrard at right back or left-sided forward, scything through a defence, doesn't take much imagination. Other than perhaps for himself.
Selling this to the player may be the toughest aspect. This isn't a sticking plaster solution and it shouldn't be seen as that – that Liverpool could use Gerrard at right back doesn't mean they shouldn't have Martin Kelly. Nor that they should look to have 20 strong outfield workers. It is essential, given the size of the task at hand, they do. The notion of using Gerrard cleverly comes to nought if a manager's hand is regularly forced due to a lack of strength in depth. Gerrard is a weapon that should be maintained and unleashed with the manager's and his own intelligence.
It is in innovations and gambles such as this where Rodgers' Liverpool will prosper. We expect the club to spend. But we know they won't outspend City and Chelsea and doubt they'll outspend United and Spurs. We can't compete with fellow European giants Real and Barca without being able to offer giant European football. We can be outspent by Malaga and Paris St Germain. We can't even match the wages offered to certain players by clubs in China and Russia.
Liverpool need to be clever. Given that everyone else mentioned above is trying to be clever as well, it'll be tough.
Finding a way to prolong Gerrard's career, utilising his astonishing range of abilities and making him 23rd from 22 doesn't sideline him. It emphasises those abilities and his importance.
It could be exactly the edge Rodgers' Liverpool will need.