The Dovedale Social spectacularly launched last Thursday night with The Tea Street Band. You were probably there to see it. It felt like everyone in Liverpool was crammed into The Dovey that night, and I think we were directly responsible for a 10% downturn in productivity in Liverpool on Friday morning. We can't thank The Tea Street Band enough for getting us off with a bang. They were awesome, as were all of you.
But don't think we are stopping there. This week local favourites Cold Shoulder clock in to The Social, with their captivating brand of soulful melodic rock. Cold Shoulder have recently been on tour with Cast, and next month release their debut single Lucifer on Longevity Records next month. With The Mono LP's (19th July) and Silent Sleep (26th July) completing this month's line up, I think it's fair to say The Dovedale Social has arrived as the best way to kick off your weekend early.
So clock in and get on the social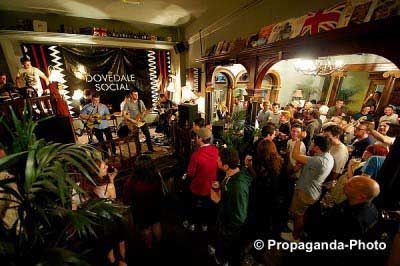 The Dovedale Social is at The Dovedale Towers on Penny Lane every Thursday night.
Listen to Cold Shoulder: http://soundcloud.com/cold-shoulder
Follow The Dovedale social on Facebook: https://www.facebook.com/TheDovedaleSocial
Or on Twitter: @dovedalesocial