CRISTIANO RONALDO took one brief glance at Petr Cech prone on the floor for confirmation. Once he had that he wheeled away, running towards the touchline with more speed and less abandon than he had shown over the previous 80 minutes.
It had been an unforgettable 80 minutes, the most complete of the tournament so far. It had been a performance of optimum speed; of the finest carefree abandon. It was an improbable feat made possible. Ronaldo has spent his career of doing that.
He approached the camera. That camera captured his travails against Germany; it mocked him as Denmark supporters chanted Lionel Messi's name. The boot was on the other foot now. Now, he had the camera where he wanted it. The gaze could not be averted, attention could not wander. It was a goal for Portugal. More importantly, it was a goal for Ronaldo.
What happened next has been subject to banal speculation. A passionate, visceral shouting of words into the camera, followed by a kiss. Some claim he shouted Messi in the modern-day, multi-million pound equivalent of throwing down his glove; others, including the Portuguese camp and lip-readers, claim it was te amo or I love you. It matters not what was said – the fact there is any debate says it all.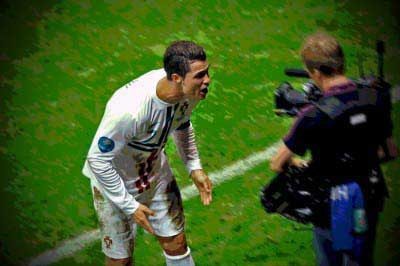 It could have been so different. It could have been as it always has with Ronaldo and international tournaments.
He struggled to impact on Portugal's first game against Germany, as did the whole team, labouring to a 1-0 defeat. Portugal were by no means disgraced by the pre-tournament favourites, but Ronaldo has never accepted being second-best in his career.
Perhaps he should be used to it by now for Portugal, given he's looked most ordinary and distinctly second-best is in the colours of his home nation. A runner-up at Euro 2004 as a tearful, arrogant 19-year-old, Ronaldo has seen Portugal's international credentials decrease as he edges nearer his prime. At 21 he was a World Cup semi-finalist; at 23, a quarter-finalist at 2008. At 25-years-old, with 31 Premier League goals and a Champions League winner medal, Portugal were eliminated in the last 16 of the World Cup to Spain.
One thing remained constant through those international tournaments: the underachievement of Cristiano Ronaldo. At first, it was disregarded as inexperience; now, it is regarded as one of the world's biggest stars perpetually failing to illuminate the international stage. For every game Portugal didn't win, Ronaldo took it as a personal slight; for every elimination, a stain upon his CV, another obstacle to becoming the world's greatest ever.
He stormed off the field in Lviv once the referee's whistle confirmed the harsh reality. Zero points, zero goals. "Players react to different situations in different ways," said Bento. "If anyone was offended, I'd like to apologise, because I'm responsible."
Ronaldo did not bounce back well. Against Denmark, he careered around the pitch like a greyhound after a tennis ball. His bark was worse than his bite, however; twice he failed to convert chances he would devour at club level. The second, a one-on-one with Andersen, prompted Denmark to equalise just two minutes later.
The Denmark support taunted him with the name of Lionel Messi. As the chant of Messi rose in decibels, so did the vein bulging above Ronaldo's pristine right eyebrow. His gigantic Adam's apple bobbed up and down in half-horror, half-disgust. Not only was he struggling to be king of the international stage, but he had been demoted to jester.
But then Varela scored the winner. Portugal laughed last; Ronaldo was still to laugh loudest.
Van der Vaart's goal in the final decisive group game acted as a trigger. Portugal were on the verge of elimination; it would be another tournament without Ronaldo's unique imprint upon it. Worse still, Ronaldo would be 29 at Brazil 2014, captaining a squad that is getting older as opposed to younger with no golden generation imminent.
A switch was flicked. Cristiano Ronaldo became the player both England and Spain had become accustomed to; the player everyone knows and begrudgingly loves. His ball control was that much neater, his movement was that much sharper; he drifted left, right and dropped off in the centre. The weight of Portugal upon his broad shoulders, as well as his own personal expectation, was felt no longer. Two instinctive finishes. Portugal had another chance, as did Ronaldo. The swagger had returned.
And so to the kiss heard around the world. For 80 minutes, Ronaldo faced Czech Republic. His overhead kick sailed wide; his free-kick flashed across the goal; his chest, turn and shot, all done in one fluid movement, hit Cech's near post. The post was hit again in the second half from another fine free-kick. And then came the 80th minute. He darted towards the ball, airborne, and powered the header into the ground and past Petr Cech. Gomez has his goals, Iniesta has imagination and Pirlo has his Panenka – but this is Ronaldo's tournament.
For a player with such a strong winning mentality, he's had his detractors. When he gained worldwide recognition, he was not the Brazilian Ronaldo; when he weaved his way through Premier League defences, he was not Thierry Henry. And now, despite 46 league goals and usurping Barcelona of the Spanish title, he's still not Lionel Messi.
There's an element to Schadenfreude to Ronaldo. He has almost everything: looks, talent, money, self-belief and much more to boot. But he isn't the best. He doesn't have the grace of Messi or the loyalty of Thierry Henry. He's vulnerable, and the masses feed off that.
But with one header past Petr Cech, Portugal were in the semi-finals and Cristiano Ronaldo moved one step closer to having something none of those do: an international tournament that belongs to him. An international tournament that, when time reflects on it, places him as the player who dragged his Portugal side to glory.
Some may not want to admit it, but Ronaldo is a special talent; two-in-a-million, almost. Their dread when he succeeds is misplaced. Football should be about character; it should be about animalistic, primitive emotion. He might not be Messi, Henry or Ronaldo Luís Nazário de Lima; he is Cristiano Ronaldo and his contribution to this tournament is one to be celebrated.
But before Portugal's name is written on the trophy and Ronaldo's impact on the international stage is engraved forever, he must beat Spain. To dismiss Portugal as a one-man team does disservice to Moutinho, Coentrao, Veloso and Pepe – all of whom have been magnificent throughout. But the camera's gaze will be on one man, and rightfully so; there's no second fiddle this summer. It's supposed to be his time. You wouldn't bet against him sealing it with a kiss once more and sending himself, and Portugal, into greatness.
It seems improbable he can do so – but making the improbable possible is something he's been dealing with his entire career.