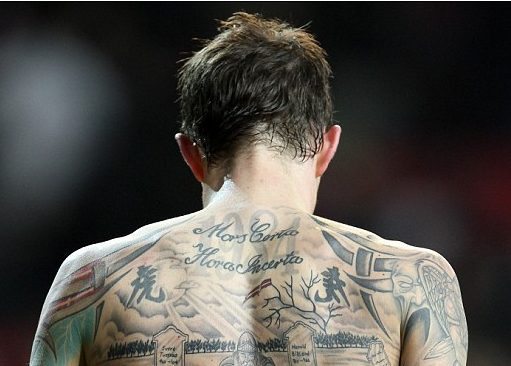 by Karl Coppack
A noble sentiment and one that's tattooed on Daniel Agger's back in Latin.
Denmark will need that spirit to get them through the Group of Standard Tournament Cliched Term.
Long regarded as also-rans, Danish football has seen a definite rise over the last twenty years and a Hall of Fame of some repute. The story of the 1992 Euros victory is one of the most romantic in international football and eclipses even Greece's unlikely success in 2004 simply because the Danes were not supposed to be involved at all.
Thanks to the war that led to the break-up of what was then Yugoslavia, Denmark were given only ten days notice to prepare for an unlikely return to a competition they'd already failed to qualify for. They crept in through the back door and ended up with trophy, beating both Euro and World Cup holders on the way. Sometimes, football is written that way.
Not only did the '92 side created a fairy tale they managed to provide a fairly solid base for future success, such as the 1998 World Cup quarter finals when they lost a narrow 3-2 the quarter final defeat to eventual runners-up Brazil. They qualified again for the next two tournaments but things soon tailed off. Euro 1992 seemed a long time ago.
A new era came in July 2000 with the appointment of Morten Olsen, the former Ajax player. Gone were the days of a rigid 4-4-2 and a more flexible 4-3-3 or 4-2-3-1 came into play, with wide men such as Gronkjaer and Rommedahl supporting the striker(s).
Such is Olsen's attachment to his policy that he has threatened to resign rather than play 4-4-2. Furthermore, he insists that the Danish second string and youth levels also play this way. It's certainly popular as Olsen has been in charge of 'the Olsen Gang', as the national team are called for twelve years and is thus the longest surviving national manager in Danish history.
Qualification for Euro 2012 was never going to be easy with only one guaranteed place and a play off for the club who finished second, particularly with Portugal as the main threat, but suffering just one solitary defeat (in Porto) saw them through.
The Portuguese certainly helped them with some odd performances such as a bizarre 4-4 home draw with Iceland but Danish victories over rivals Norway (particularly gratifying), Iceland and Cyprus saw them win the group.
Okay, it was hardly a group of death but finishing top was a major plus and took them to ninth place in the FIFA rankings.
Of course, their Euro 2012 group is an absolute bastard. The Netherlands followed by Portugal followed by Germany is a tall order but Michael Krohn-Dehli's goal in their opening game has already given them three more points than most expected and if Agger and Roma's Simon Kjaer can play as well against lesser strikers than Van Persie they may sneak into the next round.
The squad is fairly strong. Olsen insists on only picking players who are playing regularly for their teams – a sort of Beckham-in-reverse rule. There are a handful of Premiership past and present players too. Kasper Schmeichel is accompanied by United's Lindegaard, arguably their best keeper and serial one-on-one misser Nicklas Bendtner provides those all important pink boots and grimaces at the linesmen.
Dennis Rommedahl, now 54, is still a regular and is perhaps a better player than his three awful seasons at the Valley showed him to be. Elsewhere there's Christian Poulsen, but the less said about that the better. A far better option is Christian Eriksen, the young Ajax midfielder, who is a neat, unfussy player with an eye for a good pass. If Denmark have one man who is going to surprise Europe it's certainly him.
Olsen's Ajax background has led him to rely on a Dutch system of high possession and pressing wherever possible. Don't expect too many incisive balls when five passes across the back four are on offer as this Danish side love having the ball no matter where it is on the pitch.
Given their group opponents it's a risky tactic but they're a well drilled side and if two draws are enough to get them through they're certainly capable of holding on. The Dutch game alone showed that.
Should they qualify they probably won't last two long as Pink Nick really is their best striker so it's not easy to see where the goals will come from should he and Rommedahl misfire. As good as Krohn-Dehli's finish was, it's something of a rarity. 0-0's and penalties may be needed for them to progress and with Agger and Kjaer at the back there's every chance of that.
A repeat of 1992 seems unlikely but they're only two draws away from a possible meeting with Russia in the quarters (it would be optimistic to say that they can beat Holland and Germany but that's precisely what they did in their greatest tournament) and then who knows.
Defeat probably but, if the team have been reading Agger's back, you never know.