WE, THE UNDERSIGNED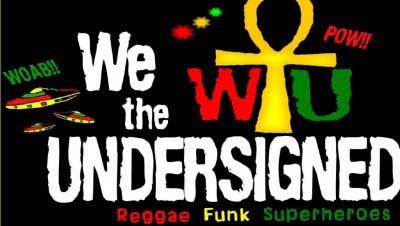 However many of their improbably large number of members We, the Undersigned (aka WtU) manage to fit on stage, watching them is an absolute joy. Fusing Reggae, Funk, Hip-hop and Rock to create their own unique sound, they refer to as Stankh, they have gone down a storm with whatever crowd I have seen them perform in front of, and so it's no surprise they are being booked for festivals all over the summer and to open up for a growing number of reggae and funk superstars. Ahead of their support slot with legendary Jamaican band 'The Skatalites' John Gibbons met up with Collen "The Referee" Chandler (Lead vocals and guitar) and Matt "The Mook" Mak (Bass) to talk about their unique style and what the hell Stankh is anyway.
The Anfield Wrap: So how do you go about putting together such a large and diverse band?
Collen Chandler: Well I was trying to put together a band to carry on what I was doing with my last band, which was called 'The Light Fantastic' and never got anywhere, really. I had songs that I had in me, but then I started playing with The Mook, who is fun through and through and we hired a metal drummer (laughs) so it took us a while to find a common ground really, and we just settled on reggae to start with, and now we are getting more funk in there as well.
Matt Mak: So I guess you could say that I won! But it was never really a battle, it worked from early on.
CC: Yeah we kind of realised from early on that we had something, we just didn't really know what it was. Over the last couple of years we've been practicing and evolving and playing shit gigs, and gradually it's all fell into place.
MM: And just generally getting better as well, and honing this thing that we call Stankh
TAW: So come on, what is Stankh? Can you describe the term to everyone who has not heard it before?
CC: We had to come up with a unique name to describe our music, because it is a melting pot of different things, and Stankh sounded dead dirty
TAW: Its a great sound to make orally as well
CC: Yeah, in a scouse accent it sounds even better, "what's the Stankh there lad?!"
MM: Mary-Lou, the baritone sax player, she's into dup-step, and you can hear it in her sound, it's kind of like rarrrrr (laughs), but everyone gets to do what they like as part of this Stankh thing.
TAW: And you've brought in a rap element to the group fairly recently as well
CC: As we were getting more funky it seemed natural, as hip hop grew out of funk and I've always loved bands like Asian Dub Foundation and Jurassic 5 who have a rap/funk element. So again, if Stankh is the big melting pot that we throw in everything we like, then rap is another thing that goes in. We hooked up with Fire Beneath the Sea, who are a project within their own right and doing some really amazing stuff, and they
bring so much energy when they come and join us on stage.
TAW: There are that many of you by the end, do you ever not fit on stage? There are close to 20 of you by end!
MM: Yeah, especially back in the day, playing on small stages like in Stamps in Crosby. We lose track of numbers to be honest. We did have an original aim of getting to 12, which we thought would be a quite cool Zodiac thing, and have everyone being a different star sign! But we kind of smashed through 12 and kept going.
TAW: As well as there being a lot of you, you are also quite striking visually as well. Is image something you talk about as a band? Or does each individual bring their own thing
CC: Its colour coordinated to a certain extent. We try and go for red, yellow and green colours just for a unified thing, but it doesn't always work….
MM: I think the main thing is that we try and be colourful, but if you all look the same, with there being so many of us, we might look like we're all going on strike or something.
TAW: So we should talk about you upcoming gig at the 02 Academy
CC: Yeah with the Skatalites. We've got ten pound tickets for that, which is basically half price, if people want to get in touch
MM: The Skatalites are a really seminal band and the kind of music that influences us, they are very important in that genre. They pioneered the style of ska. We went to see the Bob Marley film as a band and they are referenced in that quite quickly and significantly as being important. So it's exciting to be supporting them. Plus it's good to go back to the 02 Academy, we've played there before with Toots and the Maytals.
CC: He's a legend as well, and playing in front of 1,000 people supporting people like him is great for us.
TAW: I saw Toots play at Bestival and it was great because, of all the acts I saw all weekend, he acted like the biggest diva, which I quite like from my musicians. He knows he's a star
MM: Oh he got one of our rappers to hold a cigarette for him! He was very much taken with Toots, and Toots said "If you hold this cigarette for me for the entire gig at the side of the stage, and give it to me as soon as I come off, I'll shake your hand". So he waited the whole gig, but it wasn't a bad place to watch the show to be fair, and he did get his hand shaken.
TAW: So what is you mission statement as a band?
CC: To create amazing music, and maybe infect some kind of positive change on the world, whether that be through our political lyrics, or just through our general feel of freedom that we try to get across.
MM: We are very inspired by all the political prophets in music, people like Bob Marley, Jimi Hendrix, Fella Cuti and all those kind of guys. It's always the way that we approach it, that we don't just aim to be famous or successful, we want to be doing it as a platform to promote our beliefs
TAW: But it does feel like you've got some momentum behind you at the moment, and more and more people are getting to hear you
CC: We've got some new recordings to do, and that's our main aim this summer, as well as the festivals, to get them as good as we can make them.
MM: Because the recording we've got are quite old now. So people are in for some really exciting new recordings, based on the songs we are doing now.
Everything you need to know about WtU, including all summer shows all over the country and links to their music, is on their fantastic website http://www.wetheundersigned.co.uk/
If you want to attend their show with The Skatalites contact them on Twitter @WtU
And do go and see them next chance you get. You won't regret it.