The Hummingbirds are a great soundtrack to 2012 Liverpool, proud of its heritage but also very modern with a confident swagger to match. John Gibbons met up with the lads in Bier on Newington to chat about their new EP.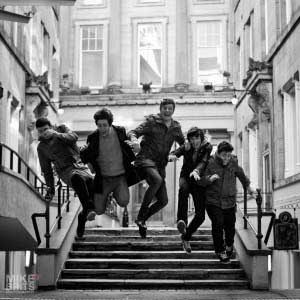 The Anfield Wrap: "So I guess a good place to start seems to be….you've just released an EP called Doesn't Really Matter"
Mic Kountis (guitar): Yeah, it's a collection of five songs, out of about seven or eight that we'd written for the EP. It was a bit different this time, by the fact that we actually planned to write an EP and so we wrote specifically for that, and then picked the best ones. So far the sales have been great, and people have responded really well.
TAW: You've got a growing reputation as a great live band, is the challenge to capture that live energy into a recording?
 MK: Yeah definitely, on the first EP it was the first time we'd recorded together and we recorded everything separately and multi-tracked everything as well. Also Ryan (Lewis – Bass) didn't play on the first EP, it was a session bass player, so we weren't as much of a band. So when we did the second one we thought we'd do it a lot more 'live'. People have always said to us "You sound better live", so we decided to keep this as live as we could get it. If you listen to the two EPs, it's a big step up, not just in terms of the quality of the songs, just mixing wise its way better. Maybe one day when we record an album we'll re-record some of the older tunes like 'Back in Liverpool'.
TAW: And it was a much more planned release this time as well
 MK: Yeah the last one kind of got added to Amazon and iTunes at different points, where as this time it was a 12 o'clock release, and the hype was really good, the Twitter went mad. It was great because people stayed up until midnight, or whatever time it was where they were in the world, and were tweeting us saying they'd bought it and giving us great feedback. People from all over the world which is amazing.
Jay Davies (Lead Vocals/Guitar): There is this Egyptian kid who always puts everything we record straight on YouTube. So it was straight on there as well which was great!
TAW: So was the idea behind recording the EP ultimately to showcase yourselves as band who could release a great album?
 MK: Well we got advised not to release an album by a few people until there is a demand for it. We may well do a few more EPs before we do an album. We don't want to force and album on people. Because then what? You want to be fresh
JD: It's not the right time. We plan to keep going until someone picks us up and thinks "these are good enough to release an album"
TAW: Is it frustrating for you guys though? Because I feel you are ready now, but it's the state of the record industry which is letting you down:
Richard Smith (percussion): Nowadays labels want to sign someone who they know will do well. They don't take chances anymore.
JD: But we have tried to do something that is a little bit different from everyone else, which we have always been advised. But then we get feedback that people don't know where to put us.
MK: Definitely, we've had a few record labels say "where do we put you, which way do you want to go". They don't seem to know where to market us.
TAW: But then you do get a lot of Beatles comparisons
 JD: I don't think you can get away from that. But I wouldn't call it a problem; I'm made up with it.
MK: If you're a band from Liverpool who do harmonies, and write pop-ish tunes, it's always going happen. But it's not our only influence.
TAW: So I have to ask you how you became Wayne Rooney's favourite band?
MK: (laughs) well Colleen (Rooney) was at one of our shows. She came to see the band before who her cousin were in, but stayed around, and she loved it. Afterwards she took a CD, and then we didn't hear anything for a week. Then whilst we were recording Wayne Tweeted "there is this boss band called The Hummingbirds, get following them". Then the next thing you know we've got 5,000 followers. We actually took a break from recording just looking at our phones buzzing.
TAW: So it must have had an impact on how many people have heard you?
MK: You can tell on the graph of our sales on iTunes, as soon as Wayne Rooney tweets he's listening to us they go up. And they audience that has got onto us isn't just football guys; there are a lot of young girls….
JD: And people in places like Brazil and Morocco, it wouldn't have reached them otherwise.
MK: We haven't met him yet like
JD: What do you mean he's always coming down? (All laugh)
MK: We've been messaging each other. If there are any gigs over the summer, and England have been kicked out of the Euro's he'll probably come then. It would be nice to shake his hand and say thanks. Because it takes him two seconds to Tweet about us, but he doesn't have to do it.
JD: He probably doesn't even know, he's just Tweeted it and got on with his day, I don't think he knows how much its helped
MK: I think both times he has Tweeted he is listening to us before a game he's scored two! But people are cheeky you know! Loads of people Tweet him saying "Don't listen to The Hummingbirds, listen to my band", or "If you like them, you'll like us" and then you'll listen to them and they will be a heavy metal band or something.
TAW: So are there any other bands in Liverpool you think people need to be listening to?
MK: Springtime Anchorage (All agree). Tea Street Band as well they are really good, we have played a few gigs with them recently. The City Walls, they've got a new EP.
JD: Tiro Lark as well.
MK: I saw them and text the lads saying get on them, but they've got nothing online. They are only young, like 16 or 17, but the songs are boss. They played the Kazamier with us for the Resurrection Festival and they sold 350 tickets, and it was literally their third gig. If I was in a band like that when I was 16/17 I would have been made up.
The Hummingbirds play Bumper as part of Liverpool Soundcity on Thursday 17th of May and are across the country playing all summer. To see all their confirmed shows visit
http://wearethehummingbirds.com/shows/
You can buy their new EP on iTunes at http://itunes.apple.com/gb/album/doesnt-really-matter-ep-ep/id523122357
Or follow them on Twitter @thehummingbirds