SINCE featuring music on The Anfield Wrap's City Talk podcast, the band that we have had the greatest positive response to has been The Tea Street Band. So I met up with singer Timo Tierney and keyboard player James Albertina for a brew to talk music and their upcoming shows.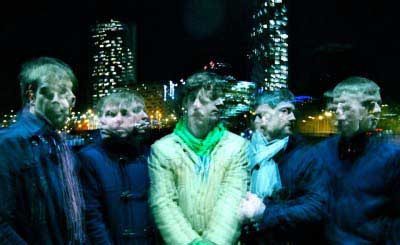 The Anfield Wrap: So first of all, the big gig on Saturday, the venue has changed
Timo Tierney: Yeah it's moved from a warehouse which we had, to the Binary Cell (40 Seel Street). Which we're happy about really, because it's going to have toilets (laughs), it's going to have a bar, and it's more central and easier to get to. It's not the warehouse, but we're going to make it feel as much like a warehouse rave as we can.
James Albertina: But if you've ever been in Binary Cell, it's not the sharpest of places, so we'll get people going in thinking it is a warehouse anyway!
TAW: For people who haven't seen you before, what should they expect from a Tea Street Band show?
JA: I don't want anyone to have any preconceptions about us a band, just that they'll have a good time. And not just like muso's there, but anyone in general who wants can come down, be it your dad or your 17 year old nephew, that they'll just pick up on the vibe that's going to be around and have a good night. Our shows aren't about what type of person you are, or if you're into bands, it's just about having a good time with good people.
TAW: That's something I've always noticed about your shows, that you will get people there that you wouldn't necessarily get at other gigs in Liverpool, do you agree with that?
TT: Yeah definitely, we might have people at our gigs who haven't been to town for ten years, and that might sound ridiculous but it's true. For some reason people feel that they can come to our gigs, and it doesn't matter what you're wearing or whatever, its somewhere where you can go and see the same faces every time. Like the days before mobile phones and going to a place that you knew a certain gang of people would be there, because they always were, that's what we're trying to create.
TAW: I think it's getting like that already. The last nights I had that with were The Bandwagon nights that The Bandits used to put on at the Zanzibar, and you're right, you didn't need to ring everyone up and check they were going, because you knew they would be, because why wouldn't they?
TT: Yeah, I mean the word movement is very silly really, but we are creating something for people who might feel uncomfortable going to bars and places where there are poseurs or people pulling wads of money out at the bar. If you've got £20 in your pocket you can come to one of our shows and have a good time, and no one's got any preconceptions about you, because they are there for exactly the same reason, to enjoy themselves
TAW: I understand why you don't like the word movement, but what you have done, essentially on your own, is create a music scene that wasn't there before, and you've took a risk doing a band that is a move away from what has worked well for your previous bands in the past, towards something that no-one else seems to be doing, certainly at the time
JA: We've been lucky in that sense, because when we got together we didn't plan to write dance songs, we didn't plan to write rock songs, it just turned out the music we were making was dancey and sounded boss. So you can say it was a gamble, but we are just writing music that we like.
TT: From my own point of view, doing the gigs with (previous band) The Maybes?, the song that always went down best was (dance track) Promise. I remember walking up Hardman Street once and there were two lads, one was on the other ones shoulders singing (sings the riff from Promise), and I thought to myself, if three notes can do that to people, and make people feel so euphoric, but done on guitars, there is a gap in the market, because no one else can do it with guitars. But I still actually think we are quite Liverpool sounding, in terms of things like the melodies and the guitar work and the chord sequences we use.
TAW: There is a real togetherness at your gigs as well, between the band and the crowd, which you don't necessarily get at other shows
TT: Everyone wants to go to gigs and dance, and there shouldn't be at barrier at a gig, it should just be the band and the people, because the lad in the band is exactly the same as you. If that barrier is not there, and the people are there, you should be able to create something that makes people think 'I want to go again, I want to go and listen to them on YouTube, because it's good'.
TAW: I'm interested in how you write songs, are they written as a band?
JA: Yeah, Tim might write a chord sequence and a melody and bring it to practice which we'll all learn and from there, it might be a cliché to say it's an organic process, but it really is. We all have the songs we write, but once it comes into the practice room, it's not your song anymore; it's the band's song.
TT: Lee on guitar just always wants to change chords
JA: (laughs) because he's a wizard like
TT: It's good and that, but it's insane sometimes because you can stand there sometimes for like 40 minutes listening to him do his part and he's got this dead assertive look on his face, telling you about the part that you've just came in and showed him! But I'll never say to Nick (bass) 'play this baseline' or Dominic (drums) 'play this beat', because everyone just knows, and that's why it's good. But then we've known each other for so long…
JA: Yeah I was going to say; we're fortunate that we were all mates and it just turns out we're all mates that play instruments
TT: We've never had to put them stickers in the windows that say 'guitarists wanted, must like Bon Jovi'!
JA: One of the things I like about this band is that we get to do instrumentals, because some of our songs, the songs just speak for themselves. It's not like we haven't got a vocal or we can't be bothered to write one, we just believe in the songs as they are, and I think that's very refreshing that you can go and see a band that might do four instrumentals, I'm made up I'm in a band that can do that.
TT: I am myself, because it means that I've only got to sing, like, three songs
TAW: I was going to ask you about that, are you a reluctant frontman?
TT: Yeah, I don't like it…but then I do like it as well. It's challenging. But it was either put an advert up or just do it and get good at it. It was just a case of finding my own style and where I'm comfortable, and from that it's actually helped the music take on its identity. Over the time I've got more confident.
JA: He's doing himself a disservice there, for the first few months I think it was just a mental thing because he saw himself as a guitar player. It was the same as me really, I've played guitar all my life, but because the other two are better than me on the guitar I had to go on the keyboard. Timo has never thought of himself as a singer, but you find your vocal range and, as he said your identity and now his voice is as much a part of the band as anything else. So he deserves some credit, although he won't say it himself really.
TAW: But then you all seem a bit reluctant to take a compliment to me:
JA: It's not that we won't take compliments; it's just that we're normal fellas you know what I mean? I guess it's the way we've been raised.
TT: Every single compliment that we get, whether it's written or whatever, I absolutely love it, but I'm not going to stand there and gloat in my own shit. But everyone who says that it's brilliant I love them all.
TAW: You've got a gig coming up in London as well to promote Liverpool Soundcity that people can get to?
TT: Yeah 25th April
JA: Hoxton Bar and Grill, is that right?
TT: Yeah we're playing with The Hummingbirds, Luke Fenlon and The Red Suns. I think it will be good because we are all going down on a coach together, although we're a lot older than them, so we'll see how they feel about us by half one in the morning.
TAW: And people from Liverpool can go down on the coach with the bands for £20 including gig entrance, is that right?
TT: Yeah, £20 we'll take you down, bring you back and you'll get in the gig as well. I'd go down for the buzz of it.
JA: Its leaving at half nine in the morning though. But if you don't sign on on a Wednesday you'll be alright (laughs)
TT: And then the 26th we're playing in Manchester and the day after we're at the Get Into This Awards (in Liverpool)
TAW: Oh yeah, the scouse Mercury Music Awards
JA: Yeah, I think it's a good thing. I mean I'm not sure what it's going to be like on the night, with all the bands on their own tables! But anything that celebrates the Liverpool Music Scene has got to be
good.
TT: I'm not sure what we're going to do with an award between five of us though? Saw a finger off each?
JA: (laughs) We could draw straws on it?
TT: We'll see what happens. We won't win it anyway.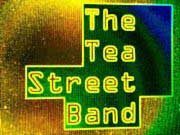 The Tea Street Band play The Binary Cell on Seel Street in Liverpool on Saturday 21st April. You can buy tickets here
distantecho.co.uk/products/tea-street-band-single-launch-party-rave-slash-phuture-sounds-ii
There are likely to be very few available on the door at £8.
If you want to go on the coach from Liverpool to London to see The Sound City Launch Event at Hoxton Bar and Grill you can buy tickets here
Or if you live in London, it's £6 on the door, and well worth attending.
To keep up with the lads get on the links below:
Facebook: facebook.com/TeaStreetBand
Twitter: @TeaStreetBand