LIVERPOOL band The Sound of Guns released their second album 'Angels and Enemies' in March and are currently embarking on a European tour. Sparing no expense, The Anfield Wrap flew John Gibbons out to Switzerland to have a drink with drummer Si Finley and see how it was all going and talk about what it's like being in a divided band (in football terms anyway)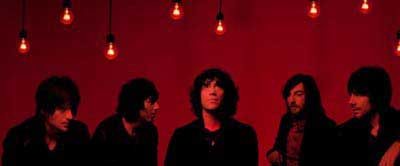 The Anfield Wrap: So Nyon is great isn't it? What do you want to drink? It's on Andy Heaton!
Si Finley: In that case I'll have a stein of the best local beer followed by a chilli vodka shot. Coley (Base guitar) had one of them last night and it's safe to say it finished him off! I'm really liking Nyon, it's got a real old town vibe about it which I'm into, some amazing scenery and landscapes. We just played Zurich which was more modern so this is a nice place to come to after.
TAW: How's the tour going so far?
SF: Really well. The UK dates were good as always, we had some proper beasts of shows, but we didn't know what to expect from Europe as it's our first time over here, so we're starting from scratch. But it's been a good surprise, we've got European fans who know the words and stuff, which is mad, and they're up for it as well. In Utrecht Andy (Metcalfe, singer) got carried around the whole room by the crowd. That was one if the best shows of the tour. But we're loving it all.
TAW: The new stuff sound good live?
 SF: Yeah, we've been playing some for over a year but now that the new album is actually out and people have had a chance to listen the new tracks are going down boss. The set has been a good mix of the two albums.
TAW: So no incidents like the one in Wakefield!
 SF: Haha, you heard about that then! Yeah someone reported some lads with scouse accents talking about guns and the next thing you know we're surrounded by armed police! But they let us off when we told them about the band name and we even ended up putting them on the guezzie!
TAW: The band is a mixture of Reds and Blues, semi final chat started yet?
 SF: Yeah, of course. It's me and Coley vs Nath (Crowley, guitar) and Andy, with Lee (Glynn, guitar) not knowing what we're on about. To be honest though, Andy has got more vocal about Everton since we have been on our bad run.
TAW: They all come out the woodwork don't they!
SF: Yeah he seems to take more pleasure out of Liverpool losing than Everton winning! He'll know that we have lost a game before he knows the Everton result! Alright, he's not that bad but you know what I mean. I'm not going to be able to stand the rest of this tour if Everton win.
TAW: We'll all just emigrate. I see you're in Sweden for the big game? Has someone been charged with finding somewhere to watch it?
SF: I've been on the case since the game got announced for the 14th. I've Googled all the bars in Malmo where we will be staying and I've specifically requested that we arrive well before the game starts. Our tour manager is a red too so it was easy enough to convince him. I've got a feeling there will be a frosty atmosphere on stage that night from one half of the band. If anyone knows any good bars let us know!
 TAW: You mentioned Lee not having a clue before, is it true Lee didn't even know who Kenny Dalglish was?
SF: Yep! We got asked to go on Soccer AM and Lee said he wanted to go on. Then someone mentioned Kenny and Lee said "Who's Kenny Dalglish?" Unforgivable, I think my cat knows who Kenny is!!! So yeah, we left Lee at the studio and me and Andy went on the couch.  To be fair Lee was born in Liverpool but grew up in Australia, he's basically an Aussie, so he knows nothing about footy. I scored the pen at the end of Soccer AM by the way! Check it out when you get home, it's on Youtube! It was a peach of a shot.
 TAW: You're back in the UK in a couple of weeks playing London and Liverpool. Looking forward to those shows yet?
SF: Too right! It feels like we've been gone for ages and it will be brilliant to get back for London and then end the tour in Liverpool. Liverpool was mental last time and we didn't have the new album out so this one will be off the scale. We're playing the O2 Academy, not many Liverpool bands get to headline that big stage so we're totally buzzing. London will be great, we sold our last one out down there and we don't see many too cool for school chin scratchers anymore, they're up for it, as we will be.
The Sound of Guns play Cargo in London on Thursday 19th April and the O2 Acadamy in Liverpool on 21st April.
For European tour details check out their website
http://www.soundofguns.com/live/index.php