By Andy Thornley
Sound of Guns – Cargo, London (Thursday 19 April)
Have you heard The Sound of Guns? No, I'm not a bizzy conducting door to door enquires – I'm talking about the scouse band that's been causing a splash on the music scene of late. The Anfield Wrap sent exiled scouser Andy Thornley along to see what the fuss was all about.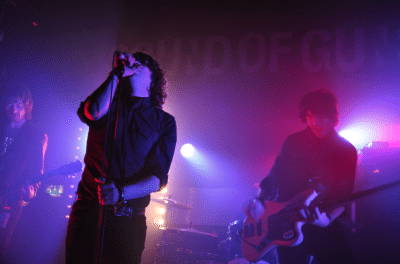 The 'Guns went off during this gig in London which was just days away from what will be a triumphant homecoming to Liverpool. The band has been off touring Europe and London was their first date back in blighty having played Cologne a few days before. Singer Andy Metcalfe, who looks like a scouse Carlos Puyol, was born to be a front man, swaggering around the stage and playing the role perfectly to the 150 or so people gathered in the venue in trendy Shoreditch. Blasting open their set with 'Sometimes' it gave their fans a taste of what was in store for the rest of the evening.
Si Finley was beating the drums like he'd caught them in bed with his missus, driving a rhythm on the toms which you could feel
in your chest. This almost tribal beat gave energy to the rest of the band – particularly John Coley who was often to be seen lifting his bass in the air, almost as if offering it as a sacrifice to the gods. Metcalfe's vocals are reminiscent of cross between Kyle Falconer from The View and John Robinson from the Bandits – dry yet soaked with passion like he's bleeding every syllable.
Referring back to Ben MacCausland's piece a few weeks ago; you can definitely spot a scouser – and there were a fair few in this crowd. Whether they were ex-pats like me, or had travelled down to welcome the lads back on to home soil – it mattered not; plenty of fist waving and dancing was happening and even 'Birkenhead Stomp' made an appearance. There was also the obligatory scouse bird at stage left, giving it the beans much to the enjoyment of a female photographer snapping her moves. It was like a home away from home.
The band rattled through the songs, punctuated by the odd bit of banter with the crowd, especially when Metcalfe felt that they weren't quite loud enough "This song is 106… THIS IS A FUCKING SONG CALLED 106!!!" which provoked an instant reaction in volume level .
The five piece have done well for themselves so far and their CV to date is impressive: four sets at Glasto; opening main stage at both Latitude and BBC Radio 1's 'Big Weekend'; two albums; number 1 in HMV 7" singles chart and single of the week on both BBC Radio 1 and XFM. But despite this relative success and the promise of more to come, the band has invariably kept it scouse. Before launching in to the final song Alcatraz, Metcalfe announced "This is scouse song", which despite the contingent of Merseysiders present, was a bold move in a city like London as often it can alienate an audience. But these boys don't care because they are what they are and if you don't like it then you don't have to listen. However, a growing number of people are listening to them and are turning up at gigs, showing that the trust in their own heritage, their own values and their own abilities is not misplaced.
The Sound of Guns play the O2 Academy, Liverpool tonight.