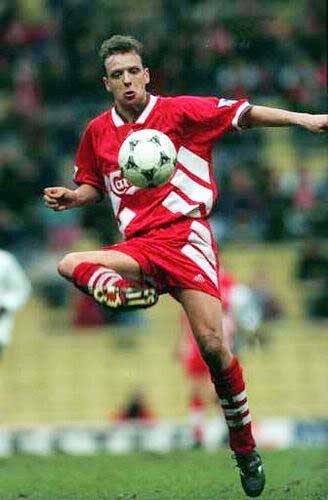 ROB JONES is rightly hailed as one of Graeme Souness's success stories. Plucked from the obscurity of Fourth Division Crewe, 48 hours after signing for Liverpool in October 1991 the defender from Ellesmere Port was marking Ryan Giggs out of a televised game at Old Trafford.
By the end of the season he had been capped by England and was an FA Cup winner after Liverpool defeated Sunderland 2-0 in the final with goals from Michael Thomas and Ian Rush.
Yet it all could have been so different for Jones who, instead of playing against Giggs, could have been playing with him for Manchester United.
"About a year before Liverpool came in for me, Man United were interested," revealed Jones.
"Alex Ferguson sent Gordon Strachan to watch me and he reported back that I had no pace! I was the fastest in the team so I think that was the end of his scouting days!"
When Souness arrived at Gresty Road with Tom Saunders around 12 months later he had in fact been interested in another Crewe player. But Jones, playing in an unfamiliar left-back role where he was later employed by Roy Evans, caught the eye of the Scot.
"I was playing left back because there were a few injuries," Jones explained.
"I had a good game and Souness later said he noticed there had been a free kick on the right-hand side and I'd come over to take it and whipped it in with my right foot and we'd scored off it.
"He was obviously impressed that I was playing left back and had a right foot as well. I don't know whether he thought I was left footed, I just used that to stand on! He sent Tom Saunders to watch the next game on the Wednesday and on Thursday morning Dario Gradi (Crewe manager) left a message on the answer machine saying Liverpool wanted to sign me."
A bid of £300,000 secured the signature of Jones, a Liverpool fan. For a 19-year-old lad who stood on the Kop when his playing career at Crewe allowed it, it was a dream come true.
"It was a big, big shock – it didn't sink in for ages," he said.
"The next day after Dario had rang, Kenny Swain, who was at Crewe at the time, picked me up and took me in to see Graeme Souness and Tom Saunders. I signed straight away.
"That morning I was training with John Barnes, Steve McMahon, Steve Nicol – all these legends that I had watched for the last 10 years winning trophies, it was unbelievable. After training Souness took me back to Anfield and in the car he said to me 'Do you think you'll be able to cope with playing against Man United on Sunday?' Obviously I was a bit nervous but you can't say no and I said 'Course I can, yeah.'
"I was supposed to be playing on the Saturday away to Darlington in the Fourth Division. All of a sudden I was playing against Ryan Giggs at Old Trafford live on the television. It was a massive step up but it worked for me. I was quite fast and I did OK against Ryan."
Most thought he had done much better than OK and Rob had soon caught the eye of England manager Graham Taylor.
Taylor handed Jones his international debut in a 2-0 win over France at Wembley in 1992 to make it a remarkable five months for Jones.
With Liverpool and England appearances under his belt, the Wrexham-born full-back had now mirrored the achievements of his granddad, Bill Jones, an Anfield centre-half who won two caps for his country and famously took Bob Paisley's place in the 1950 FA Cup Final, only the Reds' second appearance at that stage of the competition.
Bill made 256 league appearances for Liverpool and later worked as a scout, unearthing talent including legendary striker 'Sir' Roger Hunt.
"I went on a few scouting missions with him when I was five or six," said Rob.
"We went around the Ellesmere Port area looking for players. He picked up Roger Hunt from Stockton Heath and took him to Liverpool and he went on to win a World Cup winners' medal so it was a good spot. I see Roger at the Liverpool Christmas dos and he still asks about my granddad."
Although there was football talent in his blood, Rob says there was no pressure from his granddad to succeed: "He was an inspiration and he used to come and watch my games but he'd leave me just to play. I think if you've got natural ability you're halfway there and he used to just let me go and play and enjoy it. That's what I'm doing with my son, Declan. He's a good little player but I don't say too much to him.
"All through school I was in the teams and I played for Cheshire but there were players better than me – there's a bit of luck in making it, I think. Some players grow and get stronger, some don't."
Rob did and he was snapped up by Crewe at 12, making his debut for the Railwaymen at 16 while he was still at school.
"I played the last four games of the season while still at school," he said.
"It was weird. We played Tranmere away on a Tuesday night (just down the road from Rob's hometown of Ellesmere Port). My mum and dad said it was a big game so I could take the day off school – I think we told them I had a cold.
"I played Tranmere that night and the next day at school I got called in by the headmaster. He said 'How's your cold?' and I was like 'Loads better, thanks.' And he said 'Funny that, I was at the Tranmere game last night and I saw you running up and down the wing!
"He'd caught me out and he just warned me he could stop me playing for Crewe straight away and that I had to ask their permission so I didn't get away with that one!"
Jones's dramatic rise to the upper echelons of English football is rarely seen in the modern game and this is often put down to clubs preferring to invest in experienced foreigners rather than plumping for raw homegrown talent in the lower leagues.
But Jones doesn't see it that way.
"Jamie Carragher said in an interview if players are good enough they'll move up the divisions and I think he's right," he said.
"The players are still out there but clubs have got their academies sorted now and they've already got all the talented young lads on the books. In my day, Crewe had a great academy – Liverpool didn't have one, none of the big clubs had them."
Unfamiliar route to Anfield or not, Jones quickly settled at Liverpool and was soon a fans' favourite – no mean feat considering the huge leap in class of opponent.
But while his performances in a red shirt oozed class and confidence, Jones admits it wasn't quite like that behind the scenes.
"I was shy for ages," he admits. "I'd watched them from the Kop, John Barnes and all that, and suddenly you're with them – it was weird being on the other side.
"There was a two-week break after the Man United game for the internationals and then it was my first game at Anfield which was another nerve-wracking experience. But it was a good experience, too and thank God I've done it.
"I was trying to stay focused, I knew I had a job to do and things went right for me. I liked to get forward and I was fast. With Crewe, it was very tight, people were at you all the time, but when I moved up to the Premier League the pitches were much bigger, there was more space and Anfield was like a carpet – at Gresty Road there were bobbles everywhere! It suited me.
"I don't know what the lads were thinking about a young kid from the Fourth Division coming in but after five or six games I think they realised I had some ability and wasn't a bad signing. That was the October and by the February I was playing for England – another big step up.
"I had played for England U18s but I was never sure I'd play for a top team. It's all about taking your opportunities, that game at Old Trafford could have gone the other way – what would have happened if I had cocked things up? You just never know in football."
Jones made 243 appearances for the Reds in his eight years at Anfield, a figure that would have been much higher had it not been for a string of serious injuries culminating in the patellar tendonitis (also known as jumper's knee) that forced his retirement at just 27.
"If I had an injury it was a big injury," reflected Jones. "I never suffered with hamstrings or calf strains, thigh strains, anything like that and I had a couple of seasons without injury."
Shin splints put paid to Jones's chances of playing in the 1992 European Championships and his England curse reared its head again four years later after the FA Cup final defeat to Manchester United (the 'cream suit' final – the clobber being David  James's fault, according to Jones).
"I'd had back trouble for a while but scans hadn't picked anything up," he said. "We played Man United in the FA Cup final and I was in agony for the whole match. I went to a specialist and I had a series of scans which showed I had been playing for around 10 months with a stress fracture in my back. I was out of Euro 96 and couldn't do anything for five months, I was literally away from the club all that time."
But it was Jones's knee that eventually forced him to hang up his boots.
"I had the injury for 18 months – every time I came back it would go again and I was playing through the pain barrier all the time. I'd had six operations. Owen Hargreaves has the same problem and Ronaldo was out for two years with it. He came back but it was never the same for him."
Jones's knee injury led to a falling out with Gerard Houllier who, after the short-lived joint-manager role with Roy Evans, had taken control of the club in the twilight of the defender's career.
"We never hit it off from day one," recalled Jones.
"He wanted to show he was in control and with some of the rules I think he wanted to just piss everyone off and say 'I'm the boss'. He was given too much power, he took over the club.
"He brought in a strict teacher style, the atmosphere went right down. He brought all these rules in and some of them were fair enough – you've got to be into training on time, I don't think I was ever late, but other things – he banned mobiles in the training ground. Ok, have them turned off in the changing rooms but when you come out I can't see anything wrong.
"There was one occasion he told the press I was acting, that I needed to get out of the treatment room and just train on my knee. He told the press it was in my mind. As soon as that happened that was it for me – my knee was bad, as if I wanted to stay in the treatment room."
With his time at Liverpool over, Jones joined West Ham on a non-contract basis with the carrot of a deal if he could impress boss Harry Redknapp.
But Jones admits he knew he was fighting a losing battle to revive his career and it wasn't long later, in 1999, he was advised to call it a day.
"Day one at West Ham my knee was like a balloon," said Jones. "I played in an Inter Toto match away in Norway and Harry told me to have my knee looked at again.
"The surgeon said it's just tearing away, there's no hope, you won't be able to train every day and it won't hold up to the Premier League.
"You never expect those words: 'That's it' – you always think there will be some miracle operation. I was gutted, I was 27. It's supposed to be the peak of your career."
Jones admits the sudden change in lifestyle – from going to training and matches to facing daytime television – was hard to take.
"One minute you're in the changing rooms having a banter with the lads and going to training every morning then it just stops," he said. "You wake up, you come downstairs and you can have a laugh with your wife but it's not the same, is it? A lot of players go into depression, I don't think I did but I was down. It was hard to know what to do."
Jones was offered the chance to link up with former team-mate Mark Wright, who was managing non-league Southport.
But he admitted it didn't appeal and that, coupled with medical advice and complications over insurance on his knee, meant he decided to walk away from the game completely.
"I didn't even watch Liverpool for a couple of years", said Jones.
"It was hard going to watch thinking 'I should still be out there'. I didn't even watch games on the telly. People used to ask me to go on panels on Sky but I used to say, 'Listen, to be honest, I wouldn't know who is playing'."
Rob's wife, Sue, gave him the necessary kick up the backside and in 2001 they launched the Kids Academy Nursery Group and the company has gone from strength to strength.
They are now looking to expand into care homes for children with learning difficulties.
Jones has also rediscovered his love for football, although he says after running his own soccer school for a while he has no desire to return in a professional capacity. "With my son Declan growing up I started going to the match again and I enjoy it now, he said. "I also play for the Liverpool Legends. The games are only 35 minutes each way and you can really just stand there and do a bit of passing so the knee is fine!
"It doesn't whet my appetite though, that's gone now, I tried a bit of coaching, it wasn't for me."
No Rob Jones interview would complete without the mention of his goals record – or rather lack of it.
Despite being an attack-minded full-back with a decent shot, Rob never got off the mark at Liverpool – something he is reminded of to this day.
"Fans always say to me, 'I used to put a pound on you – you lost me so much money!'
"I was so close so many times, and I got the opportunities to score the goals. I must admit I cocked some of those chances right up but I hit the post a couple of times, crossbar and I remember one, Man City away and I just had no luck. Ian Rush had a shot, it hit the keeper, and it came to me five yards out and I slid in to knock it in and a City player come in and he sat on it – on the line – it just wouldn't go in!
"I never had the luck but a big thing for me was getting forward and creating chances for other people. It would have been nice to get one, though!"
Jones though, who boasts FA Cup and League Cup winners' medals, has no regrets over his career and admits he now looks back proudly at his time at Liverpool.
He adds: "I've watched a few games from when I was playing on LFC TV recently and I was talking about it with Jason McAteer and Steve McManaman. The football was attacking, fast, it was exciting. I achieved quite a lot in a short space of time and I'm proud of that."
This interview first appeared in Well Red magazine. Issue 13 is out at the end of March in UK shops. You can subscribe to the magazine here: http://liverpoolfc.wellredmag.co.uk/buy-well-red-magazine-online/latest-subscription-deals.html