By Karl Coppack
WHEN Guy Mowbray mentioned the Ray Kennedy goal in the 1981 League Cup semi at Man City recently he became a bit muddled, his mind caught between expressing a point and wrapping up the night's events and inadvertently referred to him as 'the late, great Ray Kennedy'. As Morrissey once observed he was 'half right'.
To his credit Mowbray went on Twitter and apologised for the gaffe immediately. I'm fortunate enough to know Ray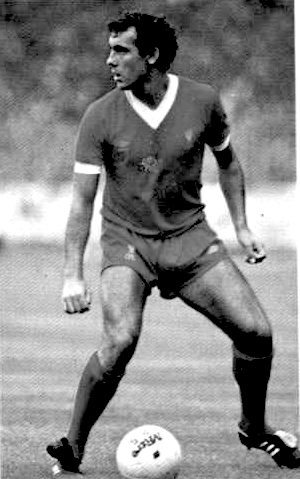 so I passed on the apology to his family. No big deal as far as they're concerned, just one of those things. It just gives me a chance to write about my favourite ever player and confirm that Ray is still fighting his illness with the sort of dogged tenacity you'd expect from our former combative midfielder. He's enjoying his grandkids and Liverpool still occupies a special place in his heart.
Parkinson's Disease has robbed Ray of a managerial career and also that of a pundit so he is still the quiet man of our finest midfield. The average fan may know everything of Souness, of Hansen, of Lawrenson thanks to their media work and even if he were well enough he's not a man to offer unsolicited opinions despite his unrivalled experience. This is a man who spent his summers back at home in the North East with his family during his career rather than on the continent with the lads. It is, however, a shame that we never hear the views of a man who won every domestic honour in his twenties and had the Double won in his teens.
The irony is that such a celebrated player very nearly missed out completely. As a teenager Sir Stanley Matthews rejected him from Port Vale as he was 'too slow' so the young Ray went back to his native North East, playing amateur football and working in a sweet factory with all hopes seemingly dashed. Ray bears no ill feeling to Sir Stanley and still has the letter. Fortunately Bertie Mee took him under his wing. Fortunately for Arsenal too. Ray scored a consolation goal in the first leg of the 1969 Fairs Cup final against Anderlecht in a 3-1 defeat. They won the second leg 3-0 to secure their first European trophy.
Ray signed for Liverpool on the day Shankly resigned and there's still some conjecture as to whose signing he was. Journalist John Keith maintains that Shankly asked him who the new signing was and claims that Sir John Smith was the instigator. At the time it was deemed to be an odd choice. Ray's Arsenal career never lived up to the early promise he showed in 1971 and he was a little overweight. If his role was to push Toshack for a starting place as the big man next to Keegan he was going to struggle. Fortunately genius struck. Bob Paisley heard that Ray had played in midfield in his youth and it was a shame to waste that left foot. Well, you know the rest.
So many highlights. To this day he maintains that the Bayern Munich goal was his best (and certainly most important) Liverpool goal although his goal and pass to Fairclough in the St Etienne game must run it close. For a left footed player he scored just as many important goals with his right on his way to amassing five Leagues, three European Cups, a UEFA Cup and four Charity Shields. The silverware continued when he left Anfield in 1981, winning a Welsh Cup with Swansea. Ray went from Swansea to Hartlepool, where he wrote the letter for re-application to the Football League that aided their cause and then onto Cyprus. During his time abroad he noticed that he was sweating more profusely than usual and his left thigh often froze up or went into spasm. Something wasn't right.
It may sound trite to say he won all those trophies with the onset of Parkinson's Disease but that's exactly what he did, albeit unknowingly. To suffer the illness so early in life (he occasionally had difficulty doing up his shirt buttons during his Arsenal days) is cruel and it's particularly unusual to be diagnosed so early in life, at the age of 35. Ray returned to the UK and worked on the coaching staff at Sunderland before retiring in 1984 with an armful of medals but with no real future in the game. Over the next few years his health worsened. He would 'freeze' in public and had to be helped home by kind strangers and fans. Hard to believe that just three years earlier he was running around Paris with his third European Cup.
Without football in his life he poured his energy into fundraising for the Parkinson's Disease Society, heightening awareness of the illness. He met with its most famous sufferer, Mohammed Ali, and had his picture taken with him. That photo sits in his living room today. He worked for the PDS for as long as he could. They have a 'Ray Kennedy Room' in their office.
He had a testimonial at Highbury in 1991 and thanks to the generosity of the football community he is now much more confident about the future. This isn't the place to go into the specifics of his battle against the disease but suffice to say that he has good days and bad days. Parkinson's Disease affects the motors of the body, of communication and mobility, rather than the mind so he is still as sharp and witty as ever.
He may be the quiet man but he's certainly not forgotten – a point that both Liverpool and Arsenal fans made when he was applauded onto the Anfield pitch at half time during the 4-4 game a few years ago. It's rare that two clubs should treat one player with equal admiration and respect but it was also true from the football community as a whole. Jimmy Greaves called him 'the player of the seventies' and Paisley spoke of how he was the most wanted player when continental teams asked about player availability. As for Ray he once said that he wouldn't change a thing about his life as his career was so celebrated. He has never sought pity or sympathy, he's just got on with his life. A quiet life.
Oh, and that goal on 3.47. I asked him once if he meant it. He definitely did.