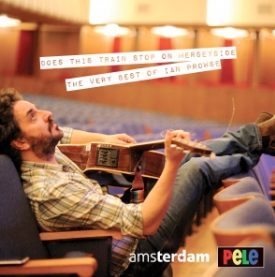 Ian Prowse may have been born on the wrong side of the Mersey, but he is a much respected stalwart of the Liverpool music scene through the bands Pele and more recently, Amsterdam. The day before providing the musical backdrop to the BOSS Mag night with Didi Hamann he spoke to John Gibbons and Andy Heaton about growing up in Ellesmere Port, his Best of Album and Tour, his other musical pursuits, Tranmere Rovers and loads of stuff we couldn't print!
The Anfield Wrap: So how did you get involved with the BOSS Mag night with Brian Reade and Didi Hamman?
Ian Prowse: I've loved BOSS Magazine since the very first one. I've got them all in the house, because the lads send them to me. Well when they bother to do it!
TAW: Yeah it's fairly intermittent isn't it!
IP: Yeah but I like that about it as well. It's carrying on the grand tradition of 'What's the Score' and 'The End' obviously and I've just always loved it. I've got to know the lads who run it over the years and they're just really solid lads. Like during the Suarez situation, I was interested in what the lads from BOSS Mag had to say because I trust their opinions on things, I trust them to get it right like I trust Brian Reade to get it right. I love their obsession with 'wools' as well, because I am one of course. I remember they did a '50 things a wool does on holiday' and I think number 10 was 'gets in the pool' and number 37 was 'doesn't get in the pool'!
TAW: Which just shows you that no one is supposed to take it too seriously
IP: Yeah, and they seem to tolerate me as a Tranmere Rovers fan. Also I was taken out by Liverpool Football Club to perform at Istanbul to perform for the fans before the game:
TAW: Oh were you on the stage that nearly collapsed?
IP: Yeah! I was at the biggest game in Liverpool history, so technically I got some kudos for that somewhere along the line, and I'm also a massive fan of Brian Reade who is involved in the night and who I think is the best journalist in the country.
TAW: But I like the way you've turned the 'wool' thing round as part of your love of Bruce Springsteen, saying that if Liverpool is New York, then Ellesmere Port is New Jersey.
IP: Yeah well John Lennon was always the connection for me between Liverpool and New York and it's been well documented the massive similarities between the cities – they use Liverpool a lot when they are making films of New York (in fact they use the Castle Street area where we are having coffee). Across the river from New York is profoundly industrial New Jersey whilst across the river from Liverpool, Ellesmere Port is just about the most industrial town in Britain. So Bruce Springsteen used to look across the river at New York like I used to look across the river at Liverpool. As soon as my mum would let me on the train when I was ten I used to go across to Liverpool and I used to tape it on my tape recorder. Just the sound of the city!
TAW: For those who don't know, how industrial is Ellesmere Port?
IP: Well we've got the biggest petro-chemical site, we've got the highest blood disorder rate, the highest infant mortality rate and the highest cancer rate. We've got a nuclear site at Capenhurst and obviously the Stanlow Refinery. At Stanlow there is a gas down there that they use to convert oil into petroleum, and you can't smell it and you can't see it, but if it comes into contact with you, it kills you immediately. There is a flame above the entirety of the petro-chemical site and we were always told when we were younger that if that goes out, you've got about half an hour to get out the North West, because the whole thing is going up because it means the gas is escaping into the air and not being burnt off. So if that ever happens Liverpool is fucked!
TAW: Will you warn us??
IP: Well I live here now as well! So someone will have to warn me. But apparently the nearest safe place to go is up Moal Famau. But as a kid you always had one eye on the sky knowing it could go at any second which made everyone very paranoid, and that was even before Cocaine arrived, and then people got even worse!
TAW: Is it not quite liberating in a way to know each day could be your last?
IP: No it was just utter paranoia! You shouldn't have to impose this concept of an early death on your children!
TAW: 'Does This Train Stop on Merseyside: The Very Best of Ian Prowse' is coming out next month. Any particular reason for doing it now?
IP: It was more the record company's idea really, because I've been writing loads of songs for the new album and sending them down, and they said whilst you're writing why don't we put a 'Best Of' out to incorporate Pele and Amsterdam, and it felt like good timing because we do a few Pele songs in the set now anyway.
TAW: You did a Pele show fairly recently as well didn't you?
IP: Yeah we played the first Pele album in its entirety. It's funny because when I first started Amsterdam I didn't want to know about Pele at all which is the classic thing – you ignore your recent history and semi-loathe it. But I've come full circle now and I listen to older stuff and like it, and people always ask for it. So this album contains the 7 best Pele songs, the 8 best Amsterdam songs, a duet with Elvis Costello, one with Christy Moore as well, and we've recorded 3 brand new songs for it too. We've also done a 16 page booklet of all photos from the past and talked about where all the songs originally came from, so it's actually turned into a really nice event for us. So we're doing a tour and will probably spend a year involved with this album, and I'll keep writing the new record. So I'm happy to do it, even if it makes me feel a bit old!
TAW: I was going to say does it naturally start to make you look back at what you've achieved with a hint of nostalgia?
IP: It does yeah, it's 21 years of recording and a good 6/7 years before getting signed making music and trying to get signed, and you listen to the songs and you see the line that goes through it all. Because it's pretty much the same thing I've always done, the same theme and the same vibe. There might be different instrumentation but it's still the same idea of having something to say about yourself and the world you're living in. I'm still trying to change the world with my Telecaster!
TAW: You're doing a tour to support the album which starts in London on Thursday 19th April, and for the Liverpool show you're auditioning bands to support you.
IP: Well I run a Monday club for creative and original musicians every Monday at The Cavern Pub on Mathew Street. We have bands playing there, we've had comedians, poets and we've even had a little play, as long as it's your own work you're welcome to perform. So I thought in order to promote the night and move it further forward the next few weeks band can come down and play three songs, and all the regulars will decide who the best one is and they'll get the big support slot.
TAW: So as part of this club you are getting to see a lot of the young talent out there in the city?
IP: Yeah sometimes the standard isn't wonderful, but a lot of the time, like last Monday, we had about four or five people come along that were just great songwriters which is what it's all about. The great tradition of this city is songwriting and you get people complaining that the last big hit out of the city was 'Valerie', but we had to wait 16 years between Mersey Beat and Echo & The Bunnymen. So it will happen, it might take a few years, but there will be a new wave of great musical creativity that will come out of this city that could only be of this city.
TAW: And one of your other passions is Irish Music, I've seen you're back doing The Irish Sessions at The Philharmonic Hall
IP: Yeah it's our third year this year, we've got a 14 strong band, 10 of which are the Cream of the Crop of Irish traditional musicians, and then there are 4 singer-songwriters including Damien Dempsey who is one of the best I have ever seen in my life, and he inspires the hell out of me. When we all get up and play together we swap songs and there is so much energy it's just a joy to be on the stage with them. It's not just for people who like Irish music, my mum and dad come and they have never heard a note in their lives, we just do songs that are connected with Liverpool or Ireland and I'd really recommend anyone come and watch it.
TAW: So whilst you're in a reflective mood on your career, is there any one moment in your musical career that is the one you'll take with you as the highlight:
Yeah absolutely, it was when Amsterdam played Glastonbury in 2008. As we'd just got together the band that we've got now, before we came on the tent was kind of empty, but by the time we'd finished the first song it was packed and something just sort of caught fire in the gig. I don't know if it was Glastonbury or what, but we all just gelled as a band and by the time we'd finished we'd torn the place apart. When I came off I just remember thinking that this music had suited this place, and then we also went on to have the best 24 hours fun by way of celebration that I think I've ever had in my life.
TAW: Just to quickly finish on a bit of football, you're a Tranmere Rovers fan, was that something that was drilled into you as a boy?
IP: Yeah my dad and my granddad supported the Rovers, so me and my dad did about 15 years together with a season ticket during the 'glory' years of the late 80s and 90s. My dad was part of a generation which seems to have completely disappeared now, those who would go and watch Liverpool one week, Everton the next and then Tranmere when he could. But it appears now there is far more antagonism which I just find really depressing, and I think that can be stamped out by decent people at the game challenging people. But when I was of the age to watch football, we just sort of floated to watching Tranmere, which coincided with when they were doing well (Ian then proceeds to talk at great length and speed about Tranmere's fortunes of that period!) I wasn't that fussed on John Aldridge personally, mainly because he took my hero Ian Muir's place! But I do have him to thank him for providing me with the best day of my life. Which wasn't when we played Glastonbury, or wasn't when I wrote 'Does this Train Stop on Merseyside' or getting in the top 40, or even when my little baby girl was born 3 months ago. The best day of my life was when we beat Everton 3 – 0 away at Goodison Park on the 27th January 2001 in the FA Cup. That was the best day of my life.
Does this train stop on Merseyside: The Very Best of Ian Prowse is released on Monday 9th April
For full tour dates and ticket details visit http://amsterdam-music.com/live/
If you want to support Amsterdam at The Kazamier on Saturday 21st April auditions are at the Cavern Pub on Monday 5th, 12th and 19th March with all equipment provided.
For more details follow Ian on Twitter at @IanProwse