JAMES WALSH is almost as famous for his devotion to Liverpool Football Club as he is for his music. Ahead of a solo performance in Liverpool in February, James spoke to John Gibbons about songwriting, his own career and, of course, Liverpool FC.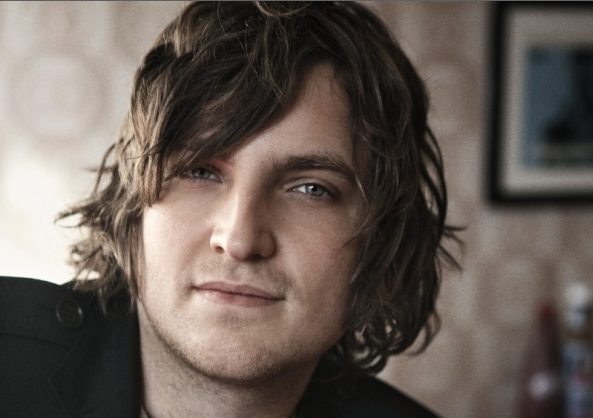 The Anfield Wrap: At the end of 2009 you announced that Starsailor were taking a hiatus and that you were concentrating on a solo career. So how has it been going since then?
 James Walsh: It's been going really well. I've been continuing to tour and do solo shows around the world, and I've also branched out more into songwriting for other people as well, so I have been keeping myself busy. Last year was also the release of 'Powder' the music film that I wrote a lot of the music for, so 2011 was pretty crazy.
TAW: How did you get involved with Powder?
JW: Through (writer) Kevin Sampson. Obviously there is a Liverpool Football Club connection, but also Heavenly, where Starsailor were managed, Kevin was pretty pally with a few of those lads as well, so he got hold of my email address and sent me an email kind of outlining what he wanted to do with the film and how they were going to adapt the book and that he really wanted me to write the songs for (fictional band) 'The Grams', and it was great to do it.
TAW: So are film soundtracks something you'd like to do more of?
JW: Yeah definitely, I've just finished one recently that's in development at the moment called Lullaby, which is very early in the process. I thought that albums took a long time to make before I was approached to do films! I think the process for this film first started in 2008 or something. But I think if you have got a particularly stellar cast list in mind, then waiting for them all to be available is the main sticking point.
TAW: You've released an EP (Live at the Top of the World) already, but you haven't released an album yet. Is that a case of taking your time over creating a sound that you are happy with, or have other projects got in the way?
JW: A bit of both really. The album has definitely become a labour of love. I've been doing it as much as I can between the other things, because they are taking priority at the moment because they are paying the bills, to be blunt! So that's meant that the album process has, not so much taken a back seat, but had to fit in with the film work and songwriting sessions (for other artists). But there is a benefit to that as well, because doing all the other stuff is making me better as a songwriter, and I'm learning a lot from everyone that I work with, so when I go in and do my own stuff I'm sure there is a myriad of influences coming through
TAW: Just to talk a bit more about your songwriting, I know that you have been writing with lots of other artists such as Diana Vickers, Matt Cardle, Beverley Knight and Mel C. How have you found the process?
JW: Really good, really rewarding. I've been working with Eliza Doolittle most recently. It's been interesting, especially working with people like Melanie C and Elisa Doolittle because we're coming from slightly different musical backgrounds, so the sound we come up with together is quite original and fresh, and it's the same with Beverly Knight. It's challenging but the results are really good, and its that little bit better than if I was working with similarly minded artists, because there is not too much point to that because we'd both be coming up with the same kind of ideas, whereas with people like Eliza and Melanie it's a different story.
TAW: So does the process work writing with someone like Eliza Doolittle, does she have ideas and you help out with the structure of the song, or is it more of a case of working from scratch?
JW: We usually work from scratch. Eliza is someone who will have an idea about what kind of song she will want to write. So she will come in and say 'I've been listening to a lot of upbeat 90s hip-hop', and you obviously can't then write a song exactly like that, but you can start thinking about the tempo of that and the feel of that music, and try and create something with that very loose concept. Maybe you'll use a particular record to get a tempo off and then create something original.
TAW: Moving on to your own stuff, I've heard a couple of your newer songs, in particular I think 'Man on the Hill' is brilliant, and it feels fairly different to things you've done before, for example you worked with an orchestra on the EP. Does being a solo artist allow you to be more experimental with ideas like this?
JW: Definitely, because I am kind of my own boss now, whereas when I was in the band you have to consider other people's opinions and tastes, and obviously when we got it right and we were all happy it was amazing, but that is one advantage of being a solo artist in that I can kind of go in any direction I want really.
TAW: It's funny because in my head I kind of think of Starsailor as a band who didn't do as well as they could have done, but then I read that'd you sold 3 million albums! Which is obviously quite a lot. Do you think other people look at the band in a similar way?
JW: Yeah I think so, I think it's because we came out at about the same time as Coldplay who sort of went on to rule the world basically (laughs), so in comparison to them we haven't done quite as well. But like you say we sold a decent amount of records, and there is still quite a lot of people coming to my shows as well which is a real buzz. In some ways the 200-1000 people who will turn up to one my gigs now will mean as much as 40,000 or whatever that watched the early Starsailor performances at (festivals) V and T in the Park, because a great deal of that is down to hype and front covers and 'the next big thing', whereas longevity and people still turning up kind of makes you feel like you have proven yourself. The fact that people are still knocking about and people still care, it's definitely not down to hype now!
TAW: Playing solo isn't that new to you, even when in Starsailor you used to do quite a bit on your own, including the Supporters Union 'Spirit of Shankly' end of season parties. Did you enjoy doing those?
JW: Yeah I love doing stuff like that. My musical talent has made some dreams come true in terms of Liverpool Football Club. I was never going to get there from my footballing prowess so I'm fortunate to have been able to do that and to do things like play at Jamie Carraghers testimonial, so it's great.
TAW: Can you remember when you started supporting Liverpool or was it just always the case?
JW: Liverpool were the first football club that I supported and the last, but I guess like most kids I was about seven or eight years old. I grew in Chorley, which leads to a lot of people saying 'why didn't you support Blackburn or Bolton or Wigan' or one of them, but I think Wigan were in the third division then and my brother was a big Liverpool fan and so it was just passed down the family line to me.
TAW: Are you able to get to Anfield much?
JW: Not as much as I'd like. I went to the Blackburn game on Boxing Day and I have been to a couple of aways down here in London
TAW: I guess that the hours musicians work don't really fit together with football fixtures
JW: Especially now because I'm so busy in the studio every week with different artists, and then I kind of have to spend time with the family on the weekends, so it's just the odd occasion where I'll get a pass out, but as I say the night games down here in London are handy.
TAW: So you are playing at the Zanzibar in Liverpool on Saturday 11th February. What can we expect from you? Will you have a band playing with you or will you be on your own?
JW: It will be me and my laptop! I've programmed, well I say programmed, I've got some drum tracks that I use on a few songs to break it up from just me and my guitar all the way through. The last few years of going round with a guitar has worked and it's been good, but I thought I would start breaking it up a bit and introducing more things into the show to keep it interesting.
TAW: Will it be all new songs you're performing, or are you going to do some Starsailor stuff as well?
JW: I'll definitely do a few Starsailor songs, I think it is still early days to scrap them really. I'm still pretty proud of them and I don't think people would be too happy if I didn't!
TAW: Any idea of an album release date?
JW: I'm hoping to get some new music out, whether that's an album or an EP I'm not sure, but hopefully in the springtime. But it's such as messed up time for the music industry even quite big artists might plan to release a certain month and then it gets put back 3-6 months for whatever reason, like not to clash with some other big artist, so who knows. The only thing I can do is keep posting videos on YouTube and keep music out there so people don't get too bored waiting for the album.
TAW: Finally, would you swap everything you have achieved musically to have played for Liverpool instead?
JW: (Laughs and agonises for a long time) That's a very difficult question! My answer to that would be once I think. I'd definitely swap a platinum selling album to step out on the pitch and maybe score a goal in front of The Kop. To have a long term career in football sounds like hard work to me! But just to get out there as super-sub once and score, preferably in a European Cup semi final, I'd swap half my music career for that!
James Walsh plays at The Zanzibar in Liverpool on Saturday 11th February and The Riverside in Newcastle on Thursday 23rd February.
You can download the fantastic track 'Man on the Hill' for free from James's website http://www.jameswalshmusic.com/