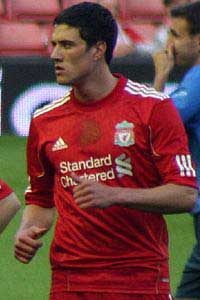 IT was great to see Martin Kelly head home that cracking ball from Craig Bellamy for his first goal in the famous red the other night.
Just  as good was the genuine delight plastered across his face and those of his team-mates.
Kelly is obviously a well-liked lad, and it's easy to see why. He's a worker. He's got a bit of character, a bit of grit – there's fight in the lad.
It's easy to forget that he's still only 21. After what looks like a summer on the steaks, he's added a bit of beef to his 6ft 3ins frame suggesting he may be primed for a return to central defence at some point, the position he held before breaking into the first team.
At one time that milestone looked impossible.  It looked like Kelly may not make it. He missed two years with a back injury.
Perhaps overcoming that not insignificant hurdle has – in a roundabout way – helped.
Because now, and ever since his debut, he's looked like he's prepared to smash through walls to succeed.
Kelly said himself: "You are going to have injuries during a career and what defines you is how you get over them."
It's just the kind of mindset Liverpool need right now.
Yes, there's money to spend (not obviously to the extent of the noveau riche from 30 miles away) but cash is no guarantee of a will to win, a willingness to go the extra mile, a single-mindedness to push for the line no matter what.
Down the years they've been attributes sadly missing from so many that have pulled on the Liverpool shirt.
I don't need to name names – you know who they are. All talent and no balls. Players who go missing in games. Players who take the easy option. Players who cry off at the first drop of snot.
Many have arrived with big reputations, others with promises of where their talent will leave us positioned on our seats.
Too many have emptied their Melwood locker for the last time having failed to live up to their billing.
Now it seems Kenny Dalglish is loading up on players with a bit more to offer in the character department.
Craig Bellamy needs no introduction on this score – and he showed bags of what he is made of by shrugging off the death of Gary Speed to play brilliantly at Stamford Bridge. When he started the match he was in tears. When he finished the match it was Chelsea doing the crying.
Charlie Adam is another who has shown his mettle. He looked to be struggling with life at Anfield at first. And he surely knew that doubts about his ability – and his fitness – were beginning to grow in the stands.
It would have been easy to give up. To go missing. To take the easy way out. But the Scot has pulled his socks up, got stuck in and proved he has got something to offer after all.
We should have known. This is a player who endured a hard time from the Ibrox boo boys and took the unfashionable decision to swap Rangers for Championship Blackpool.
There's innumerable examples of footballers who stick around at clubs like a bad smell, pocketing the wages, going through the motions and running down their lucrative contracts.
To snub that approach and fight for your career in a town that's seen better days at a side tipped to struggle opens the window on a mind determined to battle.
Luis Suarez is another who has beaten adversity, even if that quite often has been of his own making.
Chewing on the nape of opponents and donning the goalkeeper gloves in crucial World Cup matches won him few friends, but the Uruguayan just shrugs it off and carries on regardless.
The same has applied during the ridiculously protracted FA investigation of Patrice Evra's allegations of racism.
Lesser men would crumble as all and sundry point the finger, be it blatantly – at the match, on the internet – or subtlety (or not, Martin Samuel) via various arms of the media machine.
Not Suarez, who has continued to embarrass Premier League defenders and even rattled in four goals for his country for good measure.
There's fire in the belly of the frontman – he's not just here to pick up the wages.
Then there's Lucas. Has a Liverpool player ever turned around his career so dramatically? Once he was booed, now he is revered. The all-consuming sadness at his season-ending injury says it all.
Of course not all of the current crop have the story to prove it, but some don't need it.
Jose Enrique isn't called El Toro ('The Bull') for nothing, while Danny Agger's trademark scowl and propensity for speaking his mind tells you all you need to know.
Throw in the no-nonsense Pepe Reina, the resilient Jay Spearing and the ever-ready Dirk Kuyt and you've got a boxer who isn't going to kiss the canvas without a fight.
This may not be, in pure football terms, the greatest squad to grace the dressing rooms at Anfield Road. And question marks remain over the quality of one or two of Kenny's summer acquisitions.
But who knows – in terms of character and will to win, perhaps they might just prove to be up there with the best – it's certainly not a bad ingredient to overdose on when searching for the recipe for success.
The final word goes to Kelly:
 "We were all playing together as a team for Kenny and for one another. That showed tonight [against Chelsea]. There was one side out there playing as a team and the other was playing like individuals.
 "That's why we came out on top and we definitely deserved the win."