His name is synonymous with casual fashion, emblazoned across the UK's best selling trainers of all time, yet it's fair to say that the man himself is a mere side-show in comparison to the iconic footwear that festoons him. And so we ask… who the fuck is Stan Smith?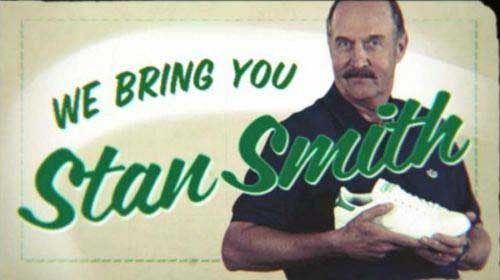 The casuals movement (as anyone outside Liverpool calls it) of the late 1970s heralded a significant shift in attitude; out went replica shirts, club-coloured bar scarves and flares to be replaced with heavily branded sportswear and drainpipe jeans – and the adidas Stan Smith trainers were at the heart of it all.
And yet whilst this craze emanated from England's dark, industrial north-west and became part of the modern football fan's identity, it was a lanky, unassuming Californian thousands of miles away  with no connection to 'soccer' who sparked it all off.
Stanley himself was an all-conquering tennis player with 39 singles titles to his name, including a thrilling five-set success at Wimbledon in 1972 – and he rocked a moustache of Tom Sellick proportions.
The man just reeked of humble, effortless cool, and adidas wanted a slice of that. In 1971, the Stan Smith trainer was born and like the man himself it was simple, distinctive and adorned those three traditional stripes.
By 1979, the trainers were flying high on the Christmas lists of many a scouse lad, in a variety of colours and designs but always with that same rubber sole which went on to fascinate and obsess their minds for several years.
'Where d'ya get those trainees?' had already become a familiar query upon returning from European away days, whether we adorned Stans, Forest Hills, Sambas, Gazelles or any other adidas footwear gold through means of beg, steal or borrow on the continent. Imported was one way of putting it.
It had become a sudden craze which became a match-day staple; along with the adidas cagoule, blue with white stripes, red on the inside – they sold 20,000 of them across the north-west in two years. Often the UK wasn't supplied with trainers as they were too expensive and with two million unemployed in 1980, who was going to pay £30 for them? And so they were grabbed on away days in pre-season and European competition.
These days, Stanley heads a top tennis academy in South Carolina whilst the trainer lives on as a constant presence in the adidas catalogue – selling almost 35 million pairs since its inception. It is arguably the most iconic trainer of all time.
Twitter: @ianmaloneyLFC   @lovefollowconqr
Who the fuck is Stan Smith, a LoveFollowConquer.com blog post