Wise move from Raul. The Mohican who was all tats and no trousers was always likely to suffer from Bellamy's Golf Bag Of Justice and find himself on the wrong side of a long iron. He'd managed to take Reece's place in the squad of looking hard but being really, really soft though he was nowhere near as soft in the head as the doombrained Norwegian. Indeed, with terrific movement off the ball and splendid retention with both feet he'll do well for himself at Chelsea but there was always this question mark hanging over him:
Liverpool player 2012/13?
I realise the window has just slammed shut and silenced the much mocked Jim White* and that there's a lot of football to be played, so thinking a year ahead may understandably be frowned upon. However, this summer seems to have been defined by two goals:
1. Building a squad that can secure top four and challenge for domestic honours
2. Undoing damage and creating a bridgehead into the season that follows to aggressively hunt down trophies on all fronts, including Europe, for seasons to come.
Both TAW's Rob Guttman and The Telegraph's Rory Smith have written eloquently about the cleansing process (here and here respectively) and discussed the footballing and financial sense the trinity of Fenway, Comolli and Kenny have displayed. To continue referencing the great man, the anniversary of whose birth is today, these directors are here to cancel the cheques as much as to sign them. Both articles are terrific so do slip away for a few minutes if you haven't already read them. Tell them I sent you.
Back? Boss. So part one appears to based on selecting from the following outfield backbone starting week in, week out in all competitions:
Four from Johnson, Kelly, Flanagan, Coates, Carragher, Agger, Skrtel, Robinson, Enrique, Aurelio.
Three from Lucas, Adam, Henderson, Maxi, Spearing, Gerrard.
Three from Bellamy, Suarez, Kuyt, Downing, Carroll.
That's not to pre-suppose a 433, just that's the likely balance. It could be 442, 4231, 451 or 433 and there may occasionally be a sexy three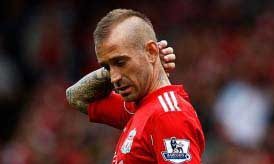 at the back from Kenny just to keep everyone on their toes. Ignoring Kenny's body-swerve into the back three I think that breakdown in selection is the most likely pattern and that squad has a balance and quality that should be more than enough to secure top four. What makes the case stronger again is that Chelsea seem like they may just be in flux, but more importantly Arsenal seem to be hitting a Carragher sized panic button and Spurs are wisely seeing Redknapp out either to England, Her Majesty's Pleasure or the sack. Stoke aren't anywhere near strong enough though are most likely to emerge from the mid-table mud with more than sixty points.
The attack has plenty of variation and pace about it, the midfield has significant quality with the ball and should have enough energy without, and the defence is a lovely blend of youth and experience and should be sufficiently equipped for the top four challenge.
But as Smith and Guttman have made clear, we've done a lot more than that. We've got the house well and truly in order meaning that if we do pull it together to come top four this season we can look at these players as a nucleus to really begin to push back on next. We've also got the new lads relatively cheaply in terms of wages (pre-Bellamy averaging on 40k a week for the six according to Smith) meaning that we've freed up the room in which to work, especially with a Champions League revenue bump.
Of that squad list we're not going to have Aurelio next season and we may be without Maxi if some of this summer's rumours were accurate. Shelvey waits in the wings. Beyond that while one or two of the older players may wane you'd think there would be a place in the squad for them, especially one having to fight on four fronts against City, United, a resurgent Chelsea and the European giants. It would take only one more all singing, all dancing player in each of the categories above for you to really believe we can genuinely challenge the cream at home and abroad, especially in either of the threes.
And this takes us back to Raul. He was never that player in either of those categories of three. He could sing, he couldn't dance. Tats, not trousers. A good player but not the player with genuine flair the attacking three needs to have next season to supplement Suarez, nor the aggressive all-rounder that may just be lacking from the middle three, especially as Gerrard's career draws to a close. The money accepted from Chelsea was about as good as it was ever going to be. Given all this, Raul Meireles may be a loss for 2011/12, he may be a boost for Villas Boas' Chelsea but he's not special enough for the  spires we should aim to build on the very solid foundations laid this summer.
* Sky seemed to (wilfully?) misunderstand this. We're laughing at Jim White. Not with him. Not towards him. At him. In fact we aren't just laughing. We're shouting, flicking the vees and, on occasion, throwing things at him. He's not so bad, he's good. He's so bad, he's a bad tit.
@knox_harrington