by Ben Thornley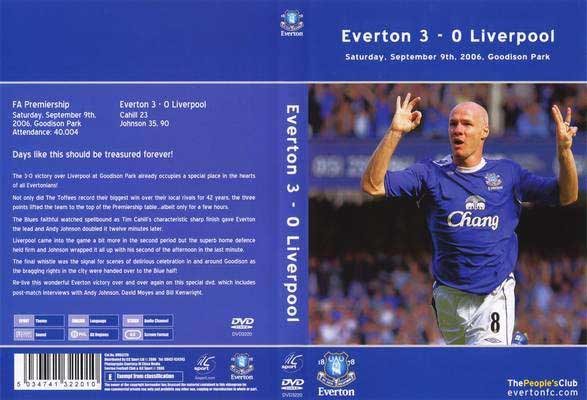 IT WAS the goal that prompted a hastily released DVD and my even speedier exit.
Andrew Johnson, enjoying his finest game in an Everton shirt, pounced on Pepe Reina's failure to deal with Lee Carsley's long-range effort to complete the Blues' biggest home victory in a Merseyside derby since 1909.
It sent Goodison into meltdown and me towards the upper main stand escalator – perhaps the old ground's most high-tech feature – faster than Everton's banks claimed Mikel Arteta's transfer fee.
I'd seen enough. Liverpool had been poor, second best everywhere on the field to the Toffees throughout the afternoon. With Peter Crouch and Robbie Fowler up front, they'd lacked the pace to trouble David Moyes' defence, while an inspired Johnson, who collected a double, had tormented a half-fit Jamie Carragher.
However, unlike Liverpool's away support sat in the Bullens Road Stand, my suffering didn't finish with the final whistle, which sounded as I reached the exit. An exit blocked by a morbidly obese Evertonian who looked like he'd been cut from his house by the fire brigade and air lifted to Goodison.
The whistle prompted inevitable celebrations and the fan, whose belly protruded out from under his replica kit down over the crotch of his jeans, to pick me up and spin me round – giving me a brief glimpse of the big screen displaying a Premier League table which Everton sat on the summit of – before planting a kiss on my head, while telling me "we've done it big fella".
My stream of invectives and pleas to be released was probably not the response he'd anticipated when he sought a fellow Blue to share the moment with.
Nor was this what I'd expected when I'd paid £35 for a main stand ticket for the September 2006 Goodison derby, even if it was all I deserved.
Watching Liverpool comfortably defeat Everton 3-1 twice from the Press box in the previous season had made me over confident. I couldn't get a ticket for the away section nor a place in the press box and thought the biggest problem would be containing my excitement when Rafa Benitez's side scored.
Evertonian mates sat elsewhere in the ground warned me before the game that I would risk being "filled in" should I celebrate.
But two seasons of covering Liverpool had taught me some restraint, breached only when jumping out of my Press box seat to celebrate Fowler's overhead goal – which was ruled out for offside – on his return debut against Birmingham.
Regardless, it didn't prove to be an issue on a miserable afternoon for the Reds. Much has been written about the demise of the friendly Merseyside derby, the cause of which I'll leave for others to explain.
But even locals can't appreciate the strength of ill will in the stands during those 90 minutes without having sat alongside your rival fans.
Watching the encounter from the away section, will give you an idea, of course, but it's like observing primates from behind the glass screen of a zoo.
You might get some excrement thrown at you but it's not until you've walked among the silverbacks, imitating their actions in a bid to blend in that you appreciate their ferocity .
The gorilla next to me had a shaven head, several Everton tattoos and expressed his dislike for Kopites through verse.
He quickly sensed that I didn't belong in this company. Perhaps it was my lack of enthusiasm for a conversation about how Joseph Yobo and new signing Joleon Lescott would thrive as a central defensive partnership.
Or the absence of joy on my face when Tim Cahill opened the scoring on 24 minutes after Leon Osman had taken Steve Finnan out of the equation in the build up to the goal with a foul that went unpunished.
By the time Johnson doubled the hosts' advantage 12 minutes later, he looked elsewhere for a celebratory hug – Everton fans, it seems, do like a cuddle – casting distrustful and intimidating glances in my direction for the remainder of the contest.
Things didn't improve from there, on the pitch or in the main stand. A 2-0 advantage did little to prevent the surrounding Evertonians singing their repertoire of songs about Heysel and Steven Gerrard.
The distasteful ditties aside, Goodison can be mesmerizingly atmospheric, one of the last great traditional stadiums of British football, even if I couldn't enjoy it on this occasion.
All that was left was for Johnson to send the ground into rapture and me into the arms of a fat man.