ANDREW FAGAN (Joe's Grandson) and Mark Platt have delivered a thorough and fitting biography of a true footballing gent.
It concentrates as much on football as the man himself clearly did; what drips from every page is Joe Fagan's love of the game. It's there as he drops down the divisions after leaving Manchester City, it's there as he cuts his coaching teeth across Northern England and it's present in his creation and devotion to Liverpool's inner rhythms upon his arrival in 1958.
It's fair to say that most readers will be most interested in the passages when Joe is at Liverpool and it is clear the authors are aware of that; however they detail his early life with care and concision. They don't extrapolate where they cannot and they give a genuine sense of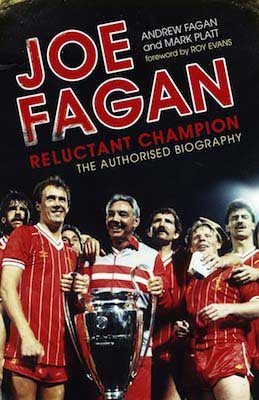 the man: tough and competitive enough to box bare-knuckle in the navy in the Second World War and truly determined to be involved in football.
When he was involved either side of the war he was enough of a leader to captain sides after only five games when young and towards the end of his career he left quite the impression on young teammates.
They demonstrate his straightforward commitment to his family and the continual honesty of his dealings at all levels of the game. When he arrives at Liverpool, Fagan and Platt ensure we know the man he was at that moment.
In short, you are led to the opinion that he would have been a success wherever he ended up. That he would have worked exceptionally hard to be successful goes without saying but what needs saying, and one reason why this is a book that had to be written, is that we were so very fortunate he ended up at Liverpool.
Fagan and Platt make us very aware of how integral a figure Joe Fagan was to the establishment of Shankly's modern Liverpool.
They do so not by overstating his claims but by dealing with his achievements calmly and modestly, using extensive interviews and demonstrating, for example, his abilities with the reserve side and the impact he had upon his mostly young charges, many of whom formed the backbone of Shankly's second side especially.
They show the growth in his seniority and Joe seems entirely constant in his dealings with players whatever his position in the backroom staff.
Yet despite Joe's expanding brief and all the success through the Shankly and Paisley years, Fagan and Platt are sufficiently confident in their subject to devote only one chapter to the years Joe spent working for each manager.
They know this is ground well covered and their focus remains solidly on the two Fagan years. The interviews remain extensive and insightful – practically every player Joe managed was interviewed in the run up to the book – yet what makes these interviews especially significant is that the authors were able to carry them out having seen Joe's diaries.
They knew what Joe made of these players and had Joe's version of events. They were able to press them on specific aspects of the two seasons in which he was the boss with Joe's own impressions in mind. For any Liverpool supporter this combination of interviews and diaries is priceless.
The diaries are reproduced within the text and while they aren't exhaustive and thorough entries they do offer snapshots into his mind, for instance his concern over the lack of strength in depth at the start of 83/84. When the club went through a dip in the first half of 84/85 we really can feel his despair in trying to bring about improvement and feeling thwarted, but there's also a sense that he can't quite get over or past Souness in that second season.
The mutual respect the pair had drips from the text. Souness is the player most quoted or referred to as per the index. So often Joe's diary entries praise him very highly and when Souness approached Joe in tears after the Rome win I felt myself welling up in sympathy with the captain's exhausted explosion of emotion.
Conversely, though, Souness epitomises the only real flaw with the book. It is this: Joe Fagan was a thoroughly decent, intelligent football man who won far more than he lost and is as good an exemplar of Liverpool's strengths in the second half of the twentieth century as any. He's a truly good man. And the problem with truly good, simple (in the best sense of the word), decent men who win far more than they lose, is that often don't make entirely riveting biography subjects.
There are few surprises and few insights into the darker sides of human nature. Bar the very end of Joe's career, the tragic end, this is a book that is almost all light, his curious relationship with his sons' football careers aside.
And why does Souness epitomise this flaw? Because he has known genuine failure along with glory. He has shown human frailties. He's an undoubtedly intelligent man, he's good company and clearly knowledgeable about football, but because of the mistakes and the suggestion there are darker sides of his personality he is compelling; indeed, along with Benitez (another flawed figure) he is arguably the most compelling ex-player or manager we have alive today.
It'd be great to see as thorough an examination of him and it is testament to the work carried out here by Fagan and Platt that I'd love to see them tackle it next.
The gentle qualm about the gentleman Joe Fagan aside, it is indisputable that Fagan and Platt's book is a success – an unshowy success. Their subject would have it no other way. If you've any interest in Liverpool FC's history this is an essential text about an essential cog in the irresistible machine the football club was for the best part of two and a half decades.
It is available in all good bookshops, from here, here and here online and also, I suspect, countless other places.