A quick glance at the TV listings for this week in 1984 uncovers a long-forgotten memory that Tom O'Connor actually had his own show on BBC2. This was when Channel 4 soap Brookside was still in its early days with "George determined to track down Tommy McArdle to prove his innocence", ITV programmes were subject to change because of "an industrial dispute" and all four channels still closed down at or shortly after midnight.
Also this week the miners were on strike and imported coal arrived in Hunterstone in Scotland in an attempt to get round the strike and supply a steel works. The dockers refused to unload it, leading to an attempt to get steelworkers to unload it instead, which in turn led to dockers at the port going on strike and bringing the port to a standstill. Dockers from around the country, including Liverpool, voted to join the strike.
Frankie Goes To Hollywood were at number 5 with Two Tribes and number 12 with the recently banned (by Radio 1) Relax. A Flock of Seagulls were just inside the top 30 with The More You Live The More You Love.
As for the footie, well, Liverpool had two games in the space of 48 hours without a whisper of complaint about fixture pile-ups. A trek down to Norwich had ended 3-3 on the Saturday with a certain Steve Bruce scoring Liverpool's first of the season with an own goal – not something he'd wish to get too big-headed about. Then on the Monday, a bank holiday, Jan Molby and Paul Walsh made their home debuts as the Reds beat West Ham 3-0.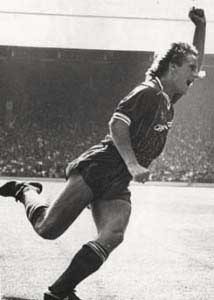 Walsh opened the scoring after just 14 seconds and was involved in both of the goals John Wark scored to secure the points. Anfield wasn't full; less than 33,000 were there to see Joe Fagan's treble-winners play their first home game since picking up their fourth European Cup a few months earlier in Rome.