Thirty Years On, Has Anything Changed?
While many people reading this won't have seen the League Trophy at Anfield, a few of us here at TheAnfieldWrap have witnessed the memory several times.
This last week has seen a few things that have reminded us of days gone by. The King taking charge of the opening game of the season, that Downing run and shot against Sunderland in the first half reminding us of the days of Digger, and sadly riots.
The last week has seen riots return to our City. This time though we can't help but think they pail into insignificance to the last riots of 30 years ago to the week. This time round it seemed to be more opportunist than the huge social issues that ripped through our City last time.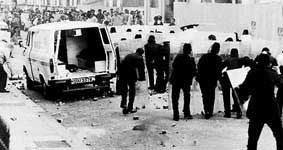 The 15th August 1981 saw trouble erupt in Toxteth during a police harassment march in which nine policemen were injured. The three mile march was organised by the Liverpool Defence Committee which was set up after rioting of the previous month.