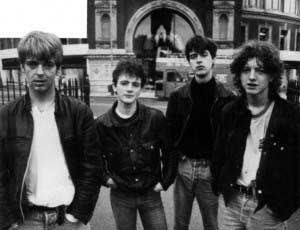 IT'S Thursday, July 21st, just before 10pm. I find myself above The Old Blue last in Shoreditch awaiting a hastily arranged gig by the man Noel Gallagher once described as the only contemporary songwriter who scares the shit out of him. Liam is also in attendance, waiting with three hundred other loyalists to pay homage.
Waiting for The La's.
The place is packed and sweating. Smiles of excited anticipation wait patiently before Lee Mavers walks onto what can just about be described as a stage. On first glimpse little hope is held that this haggard fifty year old scouser can live up to the night you'd hoped for and the legacy of the songs. White t-shirt, no image, no effort and scraggly.
The first chord erases any doubt as the voice surges through passion gritted teeth, angelically belying the age of the face it belongs to.
Two acoustic guitars sound like fifty, with Gary Murphy, formerly of The Bandits, accompanying Lee and the rich woven melody of each gem. 'Son of a gun', 'I.O.U', 'I can't sleep tonight', 'Timeless melody', 'Callin' all'. It's relentlessly perfect. All that's missing are drums, a bit of bass and youth, but those witnessing the legend fill each gap so well that's it's an ungrateful f**ker who'd ask for more.
Each song is received like a long lost relative or pal you'd given up on. The same rings true of Mavers, who you assume is touched and perhaps overwhelmed by the reaction? Not a fucking chance. He doesn't speak once throughout, deeming words a waste when you have these songs in your pocket.
No special treatment is reserved for 'There she goes'. It stapled itself to British culture, gradually seeping through. As important as it sounds tonight in this room, you just end up questioning a society that eventually accepted it as The La's trademark without bothering to check what else Mavers had up his sleeve.
Like 'Looking Glass', which closes the set as it did the debut album, when it became the template for every Brtipop band to finish their own albums with. None came close to recapturing the magical majesty.
"Tell me where I'm going. Tell me why I'm bound. Turn the pages over. Turn the world around".
Every now and then there's a small flurry of activity around The La's and a hope that Lee Mavers will finally lay down the unheard classics he has stored in his memory and turn the world around again. A couple of gigs and excitement ultimately leads to nothing. More recently, hope has been taken from the creation of a new website and Twitter account that you know he isn't arsed about.
It's now or never for the frustrated genius of Lee Mavers to make another statement, and even though he's just as likely to fade again, the songs he has already gifted never will. It's too late for that. They've stayed the distance and find themselves ingrained in peoples lives. Stained on their hearts forever.
I never thought I'd have the privilege. Timeless Melodies.
By Joe Mardon
Follow my thoughts on Music and Football over on Twitter @TheArsenal_