Reluctant Champion: 

The Authorised Biography


By Andrew Fagan and Mark Platt
'When you are in the football business there are only two ways to go and you are better to be a hero than a villain . . . Joe was definitely a hero.'
Kenny Dalglish
 'No disrespect to Bill Shankly and Bob Paisley. But, to me, Joe was the best'
From the foreword by Roy Evans
On 30th May 1984, Joe Fagan made football history – he became the first English manager to win the Treble. It was an unprecedented triumph, the culmination of a twenty-seven year career at the very heart of the Liverpool machine, and the end of a golden age.
Unassuming, down-to-earth, and never one to court publicity, little is known about Joe Fagan – a man who played a pivotal part in Liverpool's domination of the game in the Sixties, Seventies and Eighties, but whose achievements were later obscured by disaster. A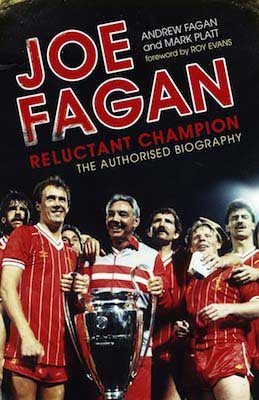 Scouser born and bred, he joined the Anfield coaching staff in 1958, after a playing career at Manchester City and years learning his craft in the lower leagues. At the time, Liverpool were in the stranglehold of Second Division mediocrity – but then, a year later, Bill Shankly arrived, and everything changed.
With a knack for nurturing the talents of precocious youngsters, Fagan quickly became part of Shankly's trusted inner circle. Indeed, not only was Fagan one of the original members of the fabled Boot Room, he is widely credited with its creation. Under Bob Paisley, Fagan was appointed second-in-command. So when Paisley stepped down, the reluctant Fagan was the obvious and only choice to succeed him – and what followed surpassed the dreams of even the most success-spoilt Kopites.
However, just one year after Liverpool's European triumph in Rome, the death of 39 fans at the Heysel Stadium in Brussels saw the club's glittering record tarnished by tragedy, and English football exiled from Europe. Fagan had announced his retirement just one hour before – and stepped back into the anonymity he craved.
Now, drawing for the first time on Joe Fagan's own diaries, as well as a raft of new interviews with players, colleagues and contemporaries, this biography celebrates the record of one of football's least celebrated greats, and reveals the truth aboutLiverpool's golden age.
Andrew Fagan is a journalist who has written for the Daily Telegraph and theIndependent. He is Joe's grandson. Mark Platt is a writer and television producer who currently works for LFC TV. His previous books include Liverpool: Cup Kings 1965,Liverpool: Cup Kings 1977 and At the End of the Storm.
'Joe Fagan – Reluctant Champion: The Authorised Biography' is out on 12 September 2011 in hardback for £20