Taking time out from playing the role of Macbeth at The Everyman, Actor/Director and staunch Liverpool fan David Morrissey chats to Andy Heaton and answers some questions about his life, his career and his love of Liverpool Football Club.
How does it feel to be back in Liverpool performing at The Everyman?
Really mixed emotions, I first decided at the age of 13 or 14 that I wanted to be an actor but didn't know where to look or who to ask, fortunately my cousin was going out with one of the girls at the box office at The Everyman, and she collared me and told me about the Everyman Youth Theatre.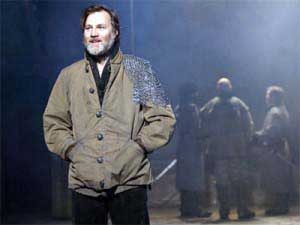 So I went down and remember sitting on the steps outside, looking at the door and knowing if I went through it would change my life, and it did.
Having come from an environment of being told to be quiet I was suddenly being told to make a noise, to do something creative, express myself, write a play and put it on, and that's what I took from it, that if you believe in something, you can do anything, but I had to be given that chance to see it.
So having taken that experience, I'm sad that it's the last play at the old Everyman before it gets demolished, I'm very proud to have been from there and to have come back, and I'm loving doing to the play, the Theatre is desperate for the refurbishment, but I'll be sad to see it go.
That period heralded a golden generation of Liverpool born actors and writers, Cathy Tyson, Ian Hart, the McGann brothers to name a few, but who, if anyone, has caught your eye over the last few years
Nathan McMullen, Mark Arends and Shaun Mason who are involved in the play are brilliant, young, scouse actors, but further afield, I really rate Stephen Graham, I really think he can do anything and he's proving that having broken America.
There are a few of them around, young Scot Williams is a fantastic actor, as is Steve Noonan, it's great to see, although to be honest, whilst I'm proud that the city has so many great actors, I always think that were you come from shouldn't define you as an actor, you need to be versatile, which is what the likes of the people I've mentioned are.
What the was the first game you saw at Anfield?
It was against QPR in 1977, we won 3-1 after going one down, the one thing I remember was being on the Kop and we were having a go at Stan Bowles, so Bowles just turned and waved and the Kop applauded back and the rest of the game was him and the Kop entertaining each other.
Maybe it's changed a bit now but I remember the Kop as a kind of theatre all by itself with a cast of 22,000 strong.
What is your best memory of supporting the Reds?
It's got to be Istanbul, I was away at the time shooting Basic Instinct 2 but I had my son, Albie, with me and I remember sitting there at half-time 3-0 down and dreading the worst, but Albie was having none of it, he was adamant we would come back.
Obviously the rest is history, it's not so much the memory of the event, but the memory of the feeling and the adrenalin which still makes the hair on the back of the neck stand up even now and sharing that experience with my Son was amazing.
Although, my other memory was the FA Cup Final against Arsenal when we won 2-1 after being battered for most of the game, and in a reverse of what would happen in 2005, it was me trying to console Albie as most of his friends are Arsenal supporters and I could see him wavering a little, but Michael Owen rescued the game for us singlehandedly that day and I could see from then my son was hooked, he got it, that was his moment.
Liverpool over the years have had some of the best sides in world football, but if you could pick one vintage over all others, which would it be?
It's hard to say, but I think my favourite ever Liverpool side was Kenny's 87-88 side of Barnes, Beardsley and Aldridge, at times they were just unplayable.
What was great about that period in the eighties for me was that I was away in London on my own and making my own way in the world, but it was great to have such a reference for me to look back to at home.
Who, in your opinion, is Liverpool's best ever player?
Kenny Dalglish, bottom line, no question.
I remember how worried I was when Kevin Keegan left and didn't really know much about this lad we'd signed from Celtic, but the journey that we all went on and are back on now, it's got to be Dalglish.
One of the greatest presents I ever got was actually from Jimmy Nesbitt, who I'd been on a job with, and when we'd finished he presented me with a brilliant, massive, framed photo of Dalglish which is now hanging pride of place on my office wall at home.
Who's your favourite current player?
Dirk Kuyt, I love watching him, don't get me wrong I think Steven Gerrard is unbelievable and Jamie Carragher is brilliant, but I really admire Dirk's attitude.
You'd always expect that someone like Steven or Jamie would have that little bit extra in them because they are local, were brought up here and know what it means to have Liverpool written on their heart, you expect it to be in their blood, but for a foreign player like Kuyt to embrace it so much is something that I think is really special.
If someone was to make a film about the club and its history, who would you play?
For me it would be about what would be the best story, and Shankly fascinates me, he was amazing, personally and professionally, from his background, politics, to what he built even to when he resigned but still came to training, so maybe him, but as an actor I'd be too tall.
But that particular period was a seminal time in our history and the story of Shankly and Paisley is a story that I'd love to maybe direct instead of act in.
Do you miss not being able to go the match as often as you'd like because of work?
Yeah, a lot, and especially not being able to take my lad as often as I'd like, it hasn't helped that there has been so few Saturday kicks-offs over the last few years, it's hard being away from Liverpool as a father living in London who wants to be up here as much as he can.
Do you play football?
I was a goalkeeper and had a trial for Liverpool boys, which, admittedly was a bit of a shambles, but I only gave up playing 5-a-side last year when I nearly broke my ankle despite no one being anywhere near me, I used to play a lot but those days are gone now, although my brother still plays and he's 53.
You're currently playing the role of Macbeth, a play in which two people's lust for power and control ultimately leads to their demise, a story that sounds strangely familiar?
I don't think we've yet heard the full story of what happened between those two individuals, but I think back to how their vanity and ego saw them use our club as a battering ram against each other with no regard for the people who really matter, the fans, and then ultimately to lose everything as a consequence of that greed and vanity is very Shakespearian.
Since then, Fenway Sports Group have taken over and the club is moving forward again, but they've yet to make a decision about whether to build a new stadium or stay at Anfield, what are your thoughts on the matter?
I'm a bit torn on it to be honest, I think everyone appreciates that if the club is to compete it needs to generate more money, the most obvious solution to me would be, reluctantly, to move, but having said that, if they could come up with something where we can expand Anfield and not increase the cost of going the game too much for the average supporter, then obviously I'd stay, but you've got to be realistic, I'm sure they'll get it right.
Finally, what would be your all time Liverpool XI?
Grobbelaar, Neal, Hansen, Lawrenson, Kennedy, Souness, Gerrard, Beardsley, Dalglish, Rush, Fowler
David is the founder of C.A.S.T (Creative Arts School Trust), a charity who's aim is to promote the development of communication skills and confidence building in young people through drama, music, movement, dance and film in countries where there is little or no provision.
You can find out more about C.A.S.T and make a donation via JustGiving here.