LIVERPOOL FC through the eyes of match-going supporters, The Anfield Wrap talks honestly and passionately about every game The Reds play home and away in the Premier League, the cups and European competition.
Also covering Liverpool FC news, gossip, analysis and past players and games, TAW has grown from a website and single weekly podcast in August 2011 to a subscription package of circa 60 shows a month and a weekly radio show on CityTalk.
The Anfield Wrap was awarded the Podcast Of The Year award in 2012 and 2015 by The Football Supporters' Federation and Best Football Podcast at The Football Blogging Awards in 2016. We were even awarded Radio Show Of The Year 2016, again by The Football Supporters' Federation, and most recently came second in the Listeners' Choice at the 2018 British Podcast Awards.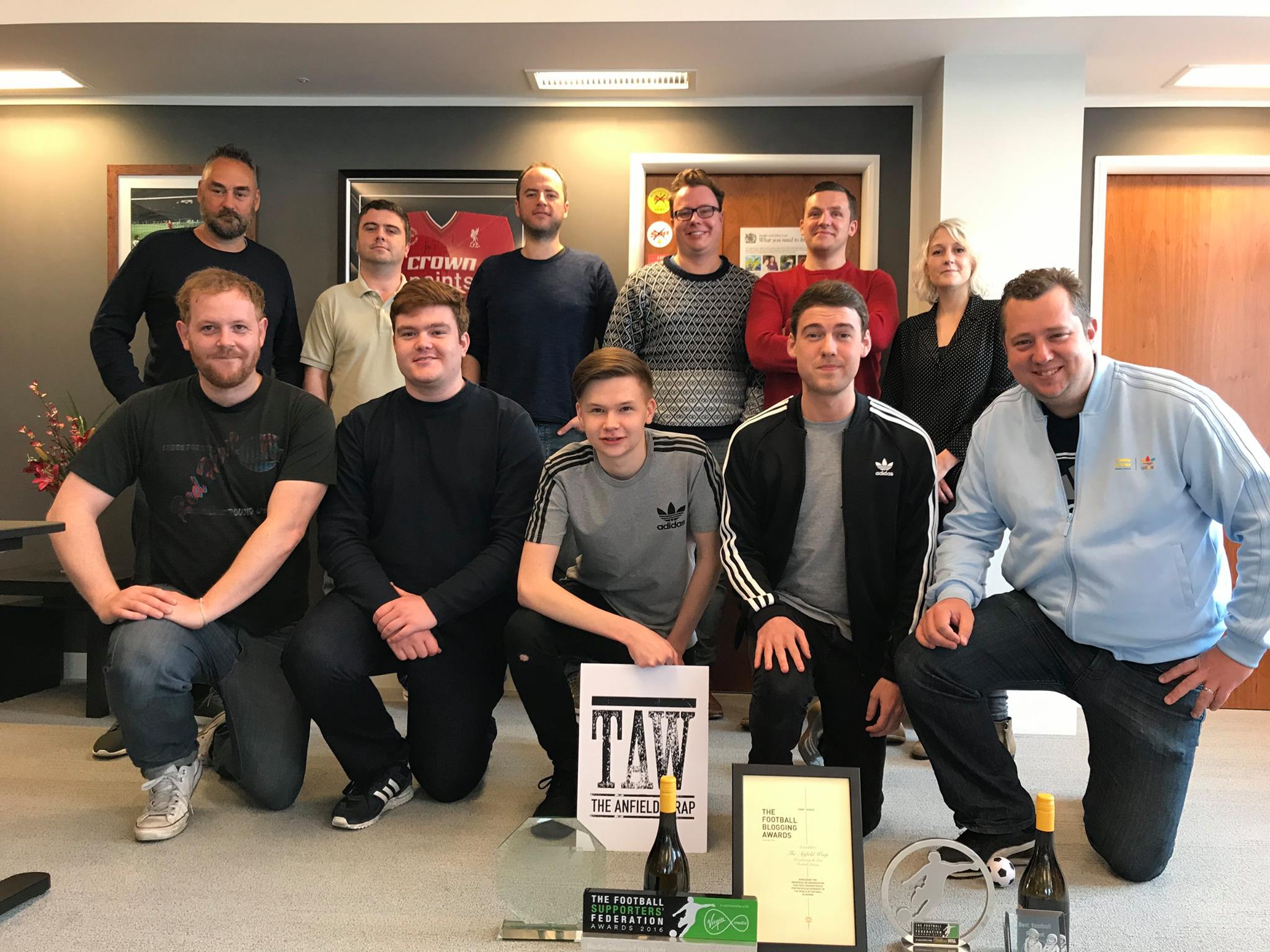 The Anfield Wrap remains essential listening for Liverpool fans and in taking last year's Football Supporters' Federation award for Best Podcast, has recently won more silverware than the subjects of their affection and exasperation.
The Anfield Wrap is an impressive young media organisation. Trying different things and innovating.
The Anfield Wrap or "TAW" is the only team-specific podcast on this list, but for damned good reason. Neil Atkinson and a rotating cast of 10+ contributors have put together the most consistent team oriented footy podcast out there. Sports debates, especially when concerned with the issues of one team, usually occur only in extremes, but TAW does an excellent job of mitigating opinions, cutting through the bullshit, and providing logical answers to an endless stream of questions.
They'll cover all the bases: how the team is currently doing, what the big-picture outlook continues to be, how the team is operating tactically and what changes need to be made, and what different factions of the fan base think. It's a truly modernist take on a legendary club. No Liverpool fan should be without TAW in their life.The Anfield Wrap is an impressive young media organisation. Trying different things and innovating.
The Anfield Wrap is truly an extraordinary creation.
The Anfield Wrap have been one of the smartest innovators in the changing digital landscape and their unique offering covers Liverpool FC in a way neutral outlets never could. In a time when there is a quest to be the loudest or most controversial, TAW provides 24/7, 360 degree coverage of this famous old club that is measured and well-informed across all mediums. There is no rival offering that comes close.
Easily the best £5 I've spent each month (unless my Mrs is reading this then its flowers n shit like that), I enjoy every show, but you can dip in, listen to certain ones or just pre/ post game ones. Loads of different topics covered from media speculation and coaching techniques to funny opinions and the host just having a laugh. A must for and Kopite…. And a whole month is less than a pint in London.
Recently subscribed to the TAW Player podcasts after a few years of regularly listening to the regular TAW. It's been a revelation and easily the best fiver I've spent! Awesome insight and amazing amount of entertainment and informative discussions.
It's just peeeeyar BOSS! I now live in Australia and it gives me a real close connection to Liverpool fc & the city. Top drawer talks and analysis from knowledgeable passionate foot fans of Liverpool FC and from other teams. Great work TAW keep it coming.
For the overseas supporter, The Anfield Wrap is the next best thing to being in Liverpool. I don't know what I'd do without it. They are my Supporter Group. Thanks, and Up the Tricky Reds! 
My LFC lifeline! Come for the scouse wit and charm, stay for the expert analysis and exclusive interviews. Simply brilliant.
Form is temporary but class is permanent – thats what the flag says and thats what you get with TAW!! Funny, eclectic, superb balance between contributors and REAL fans. Totally hooked on the podcasts – like Adidas traps for your ears. BOSS.
After being told about TAW by a friend, it has now become compulsive listening, well produced and with good content delivered by individuals who know what they're talking about! If you're an LFC fan then you should be listening to this! Keep up the good work.
Finally a football podcast that finds the right balance between humour, analysis and debate.
Informed, humorous, honest and current. TAW is a great way to spend your journey to work. With varied views on all things LFC and football in general. The different contributors to the podcasts see the LFC world through different eyes and this only adds to the content. Its like those fantastic debates I have with mates before a match every other Saturday! Wonderful stuff.
About as good as a podcast can get. Balanced, bullish, well produced and well scripted. Get on this now.