LIVERPOOL FC through the eyes of match-going supporters, The Anfield Wrap talks honestly and passionately about every game The Reds play home and away in the Premier League, the cups and European competition.
Also covering LFC news, gossip, analysis and past players and games, TAW has grown from a website and single weekly podcast in August 2011 to a subscription package of circa 30 shows a month in 2016 and a weekly radio show on CityTalk.
The Anfield Wrap was awarded the Podcast Of The Year award in 2012 and 2015 by The Football Supporters' Federation and Best Football Podcast at The Football Blogging Awards in 2016. Our most recent award, again from The Football Supporters' Federation, was Radio Show Of The Year 2016.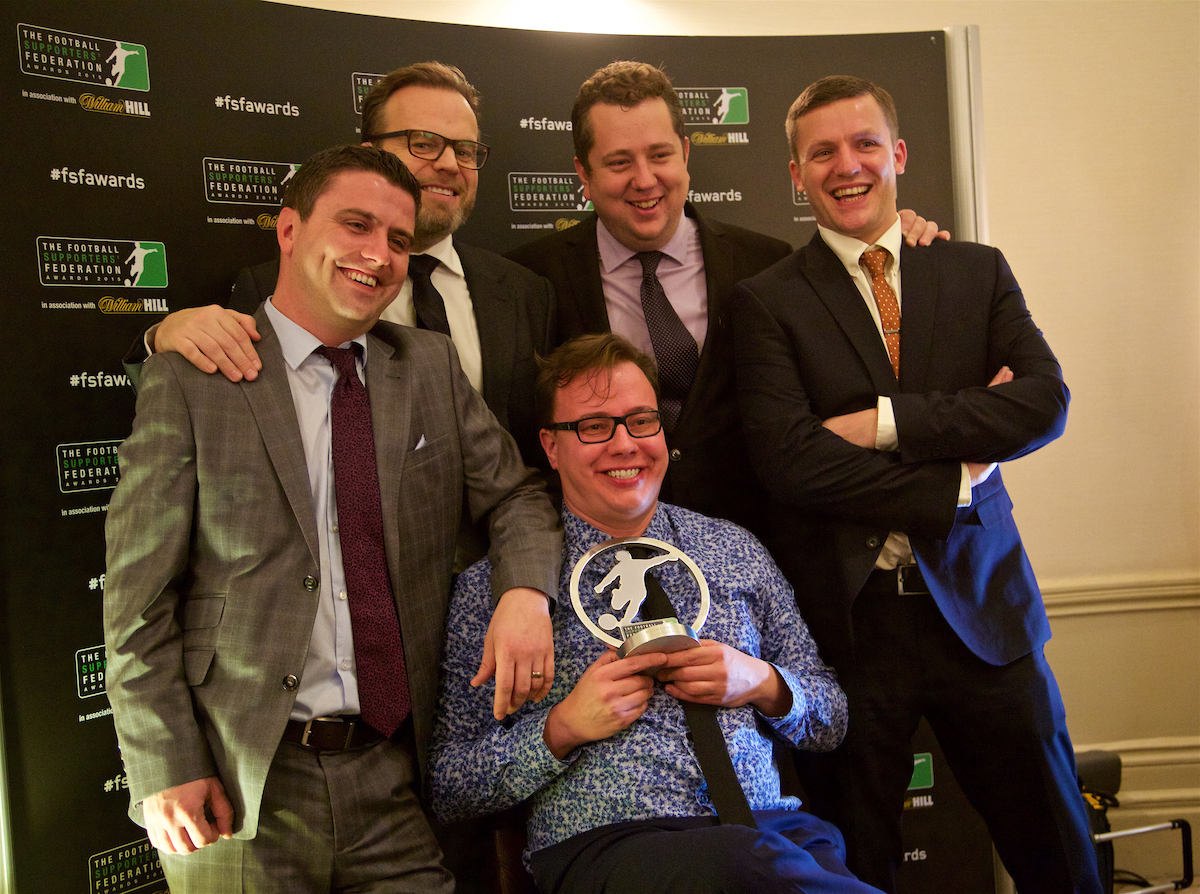 What They Say About The Anfield Wrap:
Complex Magazine
The Anfield Wrap or "TAW" is the only team-specific podcast on this list, but for damned good reason. Neil Atkinson and a rotating cast of 10+ contributors have put together the most consistent team oriented footy podcast out there. Sports debates, especially when concerned with the issues of one team, usually occur only in extremes, but TAW does an excellent job of mitigating opinions, cutting through the bullshit, and providing logical answers to an endless stream of questions.
They'll cover all the bases: how the team is currently doing, what the big-picture outlook continues to be, how the team is operating tactically and what changes need to be made, and what different factions of the fan base think. It's a truly modernist take on a legendary club. No Liverpool fan should be without TAW in their life.
The Guardian
They're All Talk, But It Seems Everyone Loves A Podcast.
The Anfield Wrap remains essential listening for Liverpool fans and in taking last year's Football Supporters' Federation award for Best Podcast, has recently won more silverware than the subjects of their affection and exasperation.
beIN Sports
Australia
Highly enjoyable podcast with a panel of intelligent, passionate Reds fans. By Soft Ollie via iTunes.
What a great podcast. Listen to it on the way to work so look for the traffic jams now to slow me down!! Thanks lads. By Gabrella Rosa Santangeli via iTunes.
Canada
It's like being with your mates in the pub, except this lot are consistently funny and know what they are talking about! By Pete Rayner via iTunes.
It's really nice to hear some insightful, rational opinions about Liverpool Football Club. I don't always agree with everyone but it's always fair and balanced. All LFC fans need to listen to this every week. By Macaroonz via iTunes.
Great Britain
Not really a podcast kind of person but this is a rare exception, amazing podcast, look forward to listening all through the season! By Liam M via iTunes.
Some old-fashioned debate about the one thing we all love, LFC. Absolutely top drawer lads and hopefully this will last for the rest of the season and for many years to come. By IGZ69 via iTunes.
This is the best Liverpool=related podcast out there. A must for all LFC fans. By Danny8t4 via iTunes.
Ireland
This is a must-listen for all LFC fans. Knowledgeable group of "pundits" giving their view and great banter. Well worth subscribing. By Bmacma via iTunes.
United States
Great discussion and very entertaining. These guys do a fantastic job of covering LFC. An easy way to get my Liverpool fix in the States. Give it a chance, you won't be disappointed. YNWA. By JohnJAtl via iTunes.
Great podcast with knowledgeable participants. Subtle, yet very funny senses of humor. A must listen for any LFC fan. YNWA. By Hkja4 via iTunes.
Facebook Reviews 
Twitter
@TheAnfieldWrap I tell every red I know about it. Even gave @spriteburns the fiver to sign up for the first month.

— Paul Burns (@BigChiefBurns) September 25, 2016
@TheAnfieldWrap 100%. Give it a go for a fiver and if you don't like it, cancel the payment but it's worth every penny.

— Wade Upton (@1980lopez10) September 25, 2016
@TheAnfieldWrap yes. Absolutely love it, great variety of shows and plenty of them. Liverpool and general football, serious shows and laughs

— Andrew (@andrewnice) September 25, 2016
@TheAnfieldWrap Guaranteed laugh Guaranteed insight Guaranteed top people

— Mike (@dolmio) September 25, 2016