"WHAT'S happened, there?"
Everton fans pouring out of Anfield, there. Wondering how they've managed to lose another game of football at a place they haven't tasted success at for 20 years.
The talk all week is that this is a new Everton side. They won't be ruled over by the mistakes and miseries of past visits. Jordan Pickford won't be making blunders like those Alisson Becker has, he tells the world.
Except they couldn't shake it. Pickford couldn't see it over the line. They had a throw in deep into injury time and an expectant Anfield sung "you haven't won at Anfield since 1999".
We can't kid ourselves. There were times when it felt like the possibility had slipped away. Like Liverpool had wasted as many chances as their neighbours, and neither side would find the breakthrough.
Except Virgil van Dijk had other ideas as he sliced a clearance into the Anfield sky, and the crowd almost groaned at a chance missed. The away end launched pyro onto the pitch, they thought it was all over. You know how the rest goes…
The stage was set for Divock Origi. When he came on, the contrasting thoughts were that he's player whose Liverpool career is on borrowed time. And yet. And yet. And yet, there was that glimmer of hope. The reminder that this is a player who relishes a chance to show his finishing touch against those near and dear to us.
Our lads had all bought into it. Trent Alexander-Arnold staring at the away end as they launched every scrap they could find onto the pitch with scuffles ensuing. Alisson whipping up the crowd as Liverpool sought that chance that would turn the game.
Then it's van Dijk. And it's Pickford's little arms. It's Origi sweeping up, followed by a long look at every official. It's absolute fucking pandemonium.
They all realise it. Sad pyro burning in front of the away end. Everton players dropping to their knees and arses, heads in hands all over the gaff. Liverpool absolutely jubilant.
Don't think for a second it means nothing to these lads. Just look at Virgil van Dijk after the game. Richarlison on his arse, head in hands, Virgil stood over him. Have a bowl of that, you fucking snide.
There will be blue enquiries all week. Joe Anderson will be on the phone to the bizzies about Jürgen Klopp running onto the pitch. They will all be wondering how they've not taken two points off us, there. Nights out will have been planned around Manchester City's hold over us.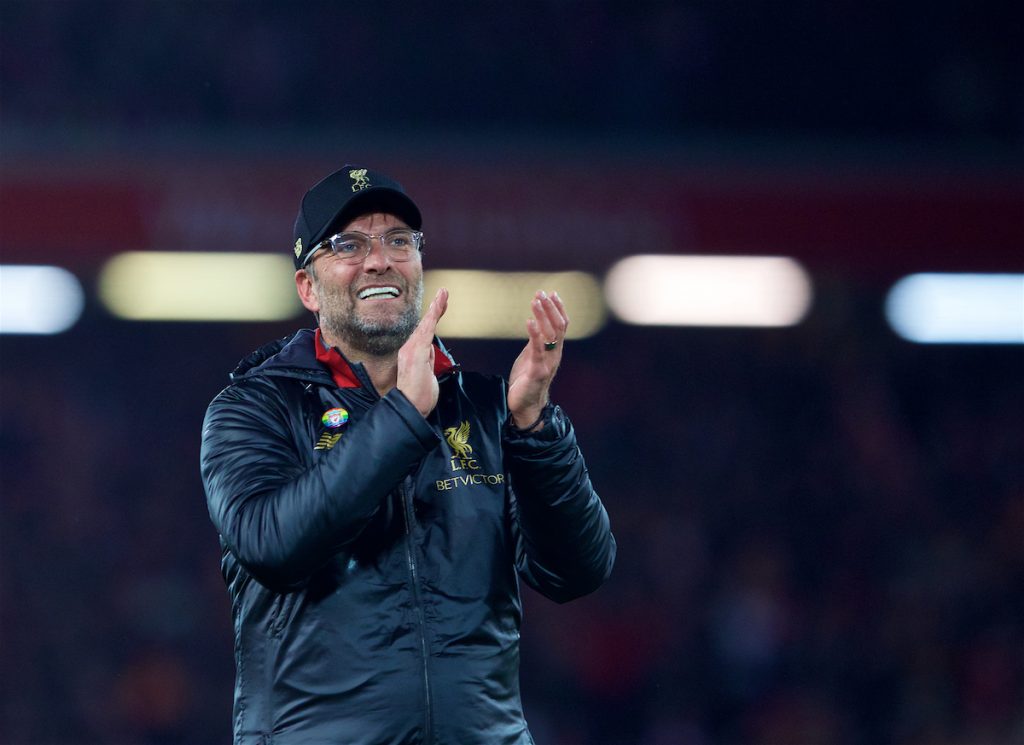 Now we're the ones singing into the night. The ones having the best night out we've ever had. They'll be retiring home wondering how it's happened again. It's happened again.
And so another year goes by. Another year that they haven't tasted success at Anfield. I was three years old the last time they did. Another year goes by where we get to have the best night out. It doesn't seem fair.
Don't say it doesn't mean anything. It means everything. The points and the spoils. These would love to spoil our party. And yet again we deny them the chance. Yet again they're left wondering whether it will ever happen.
A brand new Everton under Marco Silva. The same old lack of points at Anfield.
That win will have taken it right out of those emotional invested in Liverpool dropping points, there. Let's have a drink to that.
"Sorry dad, there's a lad on row 19 I haven't necked yet!"

"Divock Origi, I had a feeling!"

Subscribe to listen to our Post Match Show 👉https://t.co/8FirX5zZxk pic.twitter.com/kw9puqk2YC

— The Anfield Wrap (@TheAnfieldWrap) December 2, 2018
Recent Posts:
[rpfc_recent_posts_from_category meta="true"]
Pics: David Rawcliffe-Propaganda Photo
Like The Anfield Wrap on Facebook