SWANSEA'S confirmation that Liverpool have contacted them about Joe Allen shows there is a little bit more bargaining and gaming to be done before the player's future is sorted. Swansea claim they will wait until Allen comes back from Olympics duty before speaking to him about the interest from Liverpool and other clubs, an unlikely scenario for any club that wants to keep hold of its player. The statement stopped short of saying Allen wasn't for sale.
What the statement also did was put the interest in Allen on record and perhaps Swansea hope it will encourage a bid that meets the reported £15m exit clause in the player's contract. For Liverpool that may be a touch too high, after all if Liverpool felt it was a fair price they'd have put an offer in and tried to close the deal before other clubs showed too much interest. Rodgers would have been party to the clause being inserted a year ago and will know if the intention was for that figure to be on the high side of Allen's true value.
Assuming Liverpool MD Ian Ayre and Swans chairman Huw Jenkins find some common ground in their negotiations the 22-year-old could be a Liverpool player by the time his Team GB duty is over. If he does it's likely he'll come in at a price a reasonable distance under that £15m.
In comparison to the money invested in Andy Carroll – also 22 when signed by Liverpool – it doesn't seem such a high price but already there are eyebrows being raised at the amount Liverpool will have spent on two players should Allen arrive. Fabio Borini's fee was around £10.5m; buying Allen at £13.5m would bring the total up to £24m, a significant chunk of the reported £30m budget Rodgers has at his disposal this summer.  It's still some way short of what was spent on one player in Andy Carroll but the fee paid for Carroll was hardly a result of following the gold standard of transfer negotiating.
One result of the reports, speculation and statements is that there is already a very small but still noisy minority of Liverpool fans throwing their toys out of their prams with the kind of velocity any London 2012 hammer thrower would be proud of. These self-styled scouts know more about players Brendan Rodgers has actually worked with than Brendan Rodgers knows himself. In Borini Liverpool didn't spend £10.5m on a young striker who has already made it into the Euro 2012 finalists squad, they wasted it on a Chelsea cast-off who couldn't even get on the pitch for the Euro losers.
Without a crystal ball it's impossible to say which description will seem most fitting by the time the season ends but as a player clearly identified by the new manager as what he needs – and can afford – to take Liverpool forward it seems odd that fans would be so vociferous in their contempt for the deal. The same level of resistance from the same minority is being shown towards the potential deal for Allen; before he's even signed he's being billed as a waste of money by that noisy little group.
Of course Brendan Rodgers warned us about that type of fan. He said there are three types of supporter, the type who love their manager because they love their club, those who accept the manager but take time to fully respect him and a third lot. "The third group are the critics and you never change them ever," he said. "If you win four nil it should have been five. If you win the league it should have been three.
"I will never worry about that group because you can never affect them. If you do a good job you are proving them wrong but they can't be proved wrong so they will kill you even more."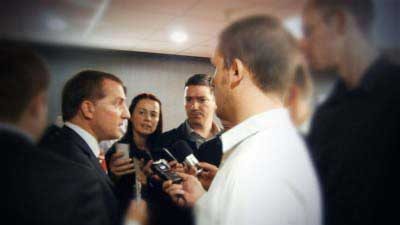 It doesn't take long to bring to mind examples of that third group, the type who seem to spend more time undermining the manager and his squad than they do supporting them. Rodgers has no time for them: "I only want to work with the people who love the club."
Not that criticism is always unfounded, but there's a way of going about the criticism, particularly when those being criticised are still at the club being paid to try and help it move back to where most supporters want it to be.
Criticism can come from within as well as Damien Comolli found towards the end of last season. His skills in finding and securing players left a lot to be desired and his contacts were perhaps nowhere near as good as the owners had been led to believe when they brought him in early on in their tenure. If he'd negotiated his own deal the way he negotiated deals for Liverpool he'd have been paying to work for the club.
We obviously don't know how many players Comolli found that Dalglish didn't want or how he rated the players Dalglish asked to be brought in but we know he bought an injured Andy Carroll for an amazing £35m when Dalglish was three weeks into a four-month temporary contract.  We also know that it doesn't particularly matter who was most at fault any longer; Dalglish and Comolli are no longer at the club.
In fact Liverpool no longer have a director of football; Comolli is yet to be replaced but his role will be carried out as part of the work of a number of appointments. We still aren't entirely certain when the announcement of the 'transfer committee' will be made but it's understood the members have all been lined up and an announcement will be made when the final appointee starts work.  In the interim Ian Ayre is in charge of actual negotiations and he'll be acting with Rodgers' wishes in mind, or at least Rodgers will expect him to.
Regardless of any assessment of the abilities of the players signed under Dalglish and Comolli it's fair to say that the fees paid on the whole worked against the players. Andy Carroll showed towards the end of last season and in spells for England in the Euros that's he's not the complete waste of time that his detractors claim he is. However he'd have to go a hell of a long way to prove his £35m transfer fee was even close to reasonable; it wasn't.  In a similar way the fees paid for Stewart Downing and Jordan Henderson were also, to put it simply, wrong.
It's widely accepted that Damien Comolli was at fault for those crazy bids; he went straight in at £30m for Carroll and last summer he made a big money bid for a certain central defender who could go straight into the first team but apparently had no secondary target lined up when that bid failed (Coates certainly wasn't bought to go straight into the first team and Liverpool didn't make any other big-money bids for centre-backs). Yet the fault seems to rest solely on the players' heads when their performances don't match their fees – and that was apparent from the first kick of last season in the cases of Downing and Henderson, at least from some types of supporter.
As a season goes on it becomes more and more apparent when a player isn't right for the club – in some cases the player was never right, in others he failed to live up to potential – but it's rare that a player is as bad as his critics make out. As a season goes on those critics look harder and harder for reasons to justify their claims that a player is the worst player ever to wear a Liverpool shirt. Almost every time their reasons include a mention of that fee that the player had no control over. The higher the fee, the worse the player is, or so their logic seems to state.
Even when ignoring the fees paid it's fair to say that signings made by Comolli and Dalglish often failed to live up to the most basic of expectations of even the most patient of supporters, a fact made all the more frustrating by the number of times those players showed glimpses of capabilities far exceeding what they regularly bothered to offer. That said, type three supporters don't do grey areas; one bad spell in a game is enough to consign a player to the 'not-fit-to-wear-our-shirt' section of their hate walls, written in permanent marker with multiple exclamation marks. Other fans try to look for reasons why that player isn't putting the shift in every game, to try and work out ways to fix him, to not give up on him so easily. Of course there comes a time when that patience runs out.
It's not just the angry FM addicts who like to make everything black or white, good or bad, right or wrong, but they're probably the ones who are capable of causing the most harm. If they did player ratings they'd only do tens or zeros. They have their own targets in mind and expect their club to go out and buy them, whatever the cost, whatever other offers the player might have had, whatever the manager thinks he needs to do with the resources at his disposal.
If Joe Allen signs for Liverpool it will make no difference whatsoever to his actual abilities if Liverpool end up paying the top or bottom end of the price range they have in mind for him. A difference in his abilities might show up if the media are joined by those type three fans in making a big deal out of the price tag, whatever it turns out to be, knocking the player's confidence.  Players can ignore the papers but it's harder to ignore the supporters, the people who are supposed to be there to try and be that twelfth man and to make that little bit of a difference that can make one point into three.  It's hardly going to help their performances or speed up the time it takes to settle in if they spend most of a game dodging those toys thrown from those prams.
Rodgers knows these players and is at a club where the scouting structure is being overhauled. To start seriously questioning his judgement on signings of players he's chosen based on his own experience and his own assessment of what the club needs is to start questioning him as a manager. To do that after one pre-season friendly and one actual transfer is to undermine a man brought in to do a job far harder than playing that computer game or watching clips on YouTube.
If Rodgers signs Allen it's because Liverpool need him, and needed him at the price they paid for him.
It might also be because Rodgers knows he'll be able to cope with the abuse thrown at him by those type three fans, that he'll rise above it and not let it knock his confidence, that he's got the guts to wear a shirt Rodgers says is heavier than most. After all, as the new manager would say, it's all part of the dance.